Greenhouse Gas (GHG) Protocol Reporting – Everything you need to know (+ more)
Environmental Policy & News
A good understanding of Greenhouse Gas (GHG) impacts is crucial to our collective climate journey. And that's because it enables companies to thoroughly understand their climate hotspots- as well as to spark the proper responsive actions.
It's no surprise that measuring, reporting, and managing Greenhouse Gas (GHG) emissions (scope 1, 2, and 3) is increasingly becoming mission-critical to many companies. A good understanding of GHG impacts:
1) Enables companies to thoroughly understand their climate impacts;
2) Sparks the proper responsive actions and allows for a robust strategy;
3) Allows them to make environmental claims to stakeholders.
Recap: What is the GHG Protocol?
The Greenhouse Gas (GHG) Protocol was developed in the late '90s and is the global standard framework for measuring and managing our greenhouse gas emissions (GHG).  Most of its listed corporations have reported according to the GHG protocol for years already. The framework is now also increasingly adopted by many small and mid-size enterprises.
The GHG protocol applies to measuring greenhouse gasses in both the public and private sectors. It provides standards that create a common ground for many sustainability certifications and reporting systems. As a result, other standards such as the Global Reporting Initiative (GRI) and the International Integrated Reporting Council (IIRC) are built on the GHG protocol.
Because of its relevance, GHG Protocol reporting receives a lot of attention from stakeholders (customers, investors, etc.). The Protocol is now increasingly adopted worldwide as the standard framework for measuring climate risks and climate performance. 
It should not be underestimated. It's the base for every sustainability year report- and it's tricky to measure.
Find our full webinar recap on measuring GHG emissions below (summary + recording).
Sustainability Reporting: What are the GHG Standards?
GHG reporting has become a requirement in sustainability/CSR year reports. And now plays a crucial role in a company's strategic climate decisions.
As the GHG protocol report is a framework, it entails a couple of standards for different organizational levels. These can help you measure and achieve your sustainability mission and targets.
The most important standards are:
The protocol and the standards mentioned above look at both indirect– as well as direct emissions that occur in companies' value chains (also called scope 1, 2, and 3 emissions- we'll discuss that soon). 
Science-based targets & KPI's
When it comes to the GHG standards, organizations often set Science based targets and KPI's. This helps them to make the claim that they operate 'within the boundaries of the planet', i.e. the Paris Agreement, whether that is 'within the boundaries of 1.5. or 2 degrees scenario'.
Companies can formally submit their target to SBTI, which also verifies that such targets have been set in line with the SBTI methodology. The methodology allows for various types of target setting, which should be decided upon depending on the nature of the business
Lots to do. 
What are Scope 1, 2 and 3 emissions
GHG emissions are generated from all kinds of organizational activities throughout your value chain (upstream + downstream). The GHG Protocol categorizes these emissions into three scopes- scope 1, 2, and 3:
Scope 1: Emissions from scope 1 are direct emissions. This means that they directly come from your company's owned- or controlled source, such as company vehicle emissions.
Scope 2: Emissions in scope 2 cover the indirect emissions from purchased sources, such as your company's consumed electricity or cooling. For example; this would entail the emissions from the burning of fossil fuels at a power station that generates your electricity. 
Scope 3: Emissions from scope 3 are the trickiest. They are all the other indirect emissions within your entire value chain. Including the upstream supply chain (suppliers), as well as downstream GHG emissions (e.g. from customer usage). Think of emissions from; your business travels, waste disposal transportation, or investments. For many organizations, scope 3 emissions provide a dominant impact category (up to 80% of total footprint).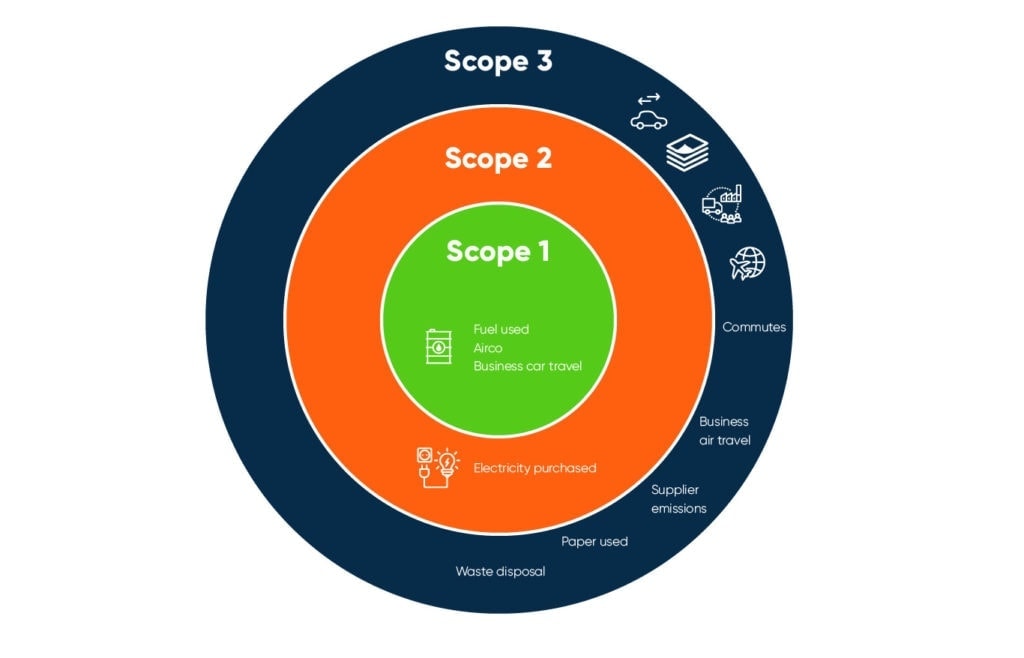 Scope 3 Emissions – The Biggest Impact Reduction Potential
As you can imagine, scope 1 and 2 emissions are easier to measure than scope 3 emissions. 
But, scope 3 emissions often provide a huge improvement potential, e.g. through the introduction of circular solutions. And although this impact is indirect, it's very strongly influenced by a company's actions.
For example, think about product innovations to reduce waste processing impacts and the end of your supply chain. Or the use of renewable materials to reduce upstream production impacts. 
Taking accountability
Hence, to realize our ambitions in terms of a circular economy. Measuring and managing scope 3 emissions provide a critical success factor.  
Experience with life cycle thinking already has proven that ownership over value chain emissions, drives true innovation and the emergence of circular innovations. It provides control over all your emissions. What you can control- you can change.
This increasing awareness has caused many companies to take full accountability over their scope 3 emissions. Providing bigger opportunities for reducing impact (e.g. business opportunities with suppliers). And increasing the need for solid GHG Measurement technology.
Ecochain's Environmental Intelligence Platform
Your direct, indirect, and supply chain emissions are key metrics for your sustainability strategy and sustainability reporting.
And in order to pursue your sustainability strategy, you need to understand your environmental hotspots and potential alternatives to reduce emissions. The so-called what-if scenarios (what happens if I replace a resource with a more sustainable resource). 
Our Environmental Intelligence Program provides you with all these benefits in one robust and reliable tool.
With our software you are able to:
1. Calculate your entire portfolio's scope 1, 2, and 3 (upstream and downstream) emissions and compare them (to previous years).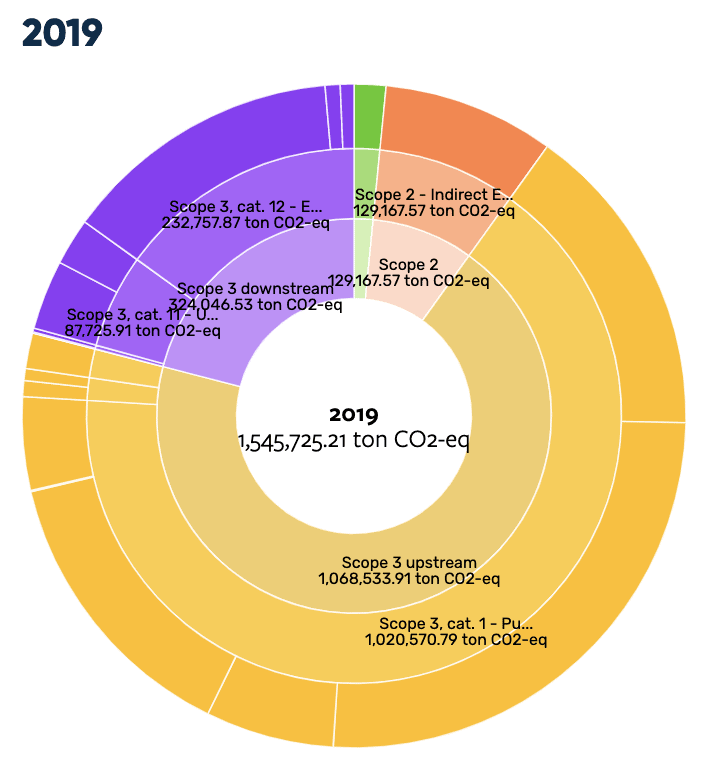 2. Find the biggest hotspots in your emissions and identify the highest potential points for reducing your emissions.
3. Create what-if scenario's on where you can reduce your carbon emissions and use this intel for reduction targets in your strategy.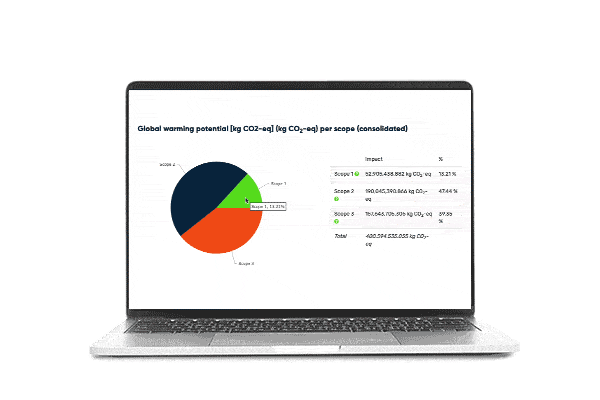 Move your company towards carbon neutrality
Read more about the 5 steps you can take regarding GHG emissions to manage your climate strategy.