CSRD – Guide: What to report & How to comply
Environmental Policy & News
1. What is the CSRD?
The Corporate Sustainability Reporting Directive, also CSRD, improves and replaces the current Non-Financial Reporting Directive (NFRD), which applies to approximately 12.000 organizations within the EU region. The NFRD explains the rules on disclosure of non-financial and diversity information for certain large companies- including sustainability reporting. 
The new CSRD applies to a drastically larger scope of companies (50.000 companies more than NFRD's) across all sectors. Companies will have to publicly disclose detailed and transparent information on how sustainability issues:
Affect their own business (risks and opportunities – outside-in perspective). 
What impacts they have on both people and the environment (inside-out perspective).
Quick summary of the Goals of the CSRD: 
Ensure (especially) investors, consumers, policymakers, civil society organizations, and other stakeholders are provided with all financial and non-financial data they need to assess companies' societal and environmental impacts.
Help companies (SMEs) become more attractive to investors and other stakeholders through better disclosure requirements. 
Provide more accessible, in-depth, and verifiable non-financial data to investors that will allow for improved informed (ESG) decision-making.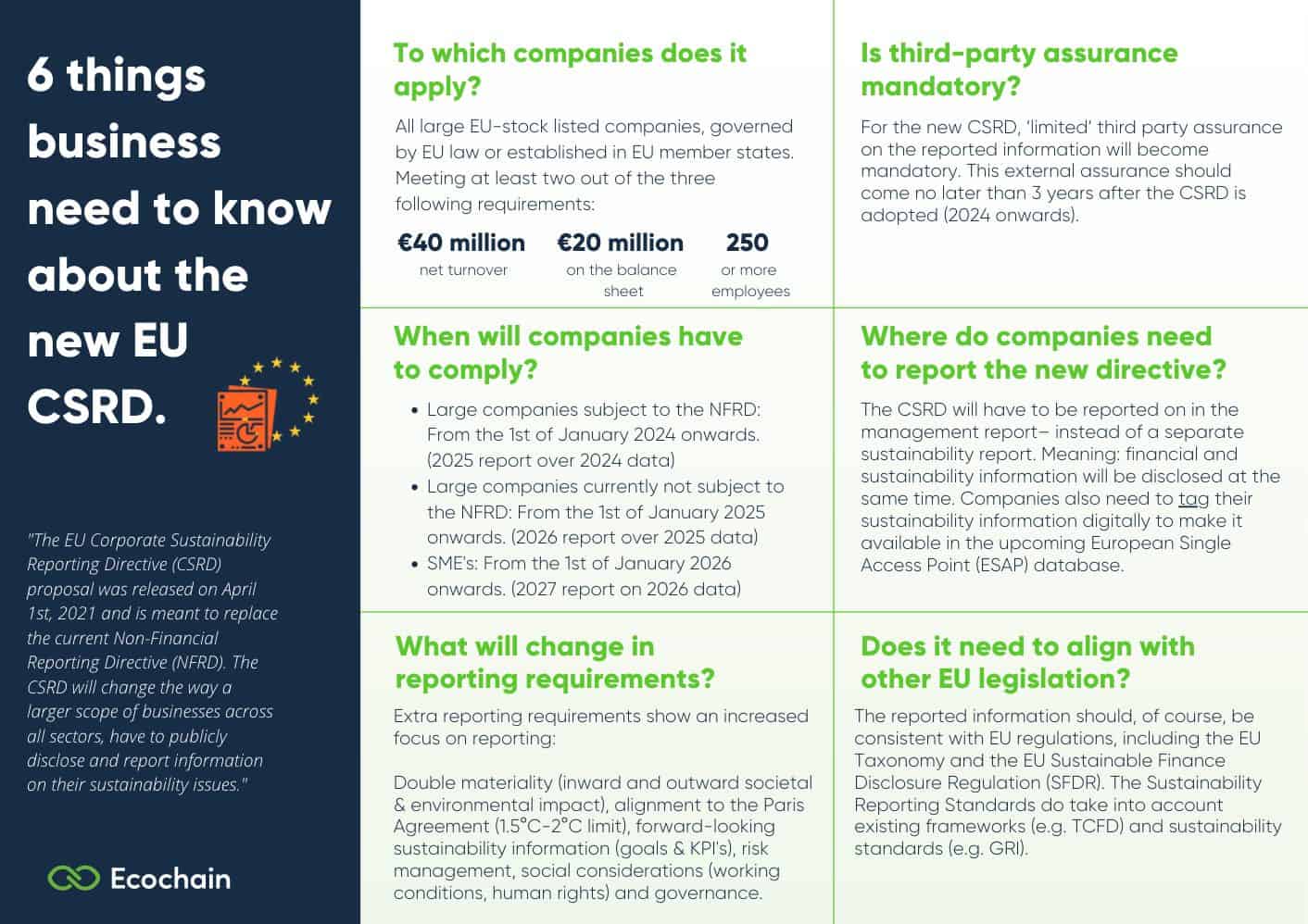 2. Which companies fall under the CSRD?
The CSRD applies to all large companies governed by or stock listed in the EU law or established in an EU member state. It also applies to global businesses that have operations/ securities in Europe. Next to these criteria, companies have to meet at least two out of the following three requirements:
€40 million in net turnover;
€20 million on the balance sheet;
250 or more employees.
*Go to question 10 for the CSRD & SMEs. 
3. When do I have to comply with the new CSRD?
Large companies already subject to the NFRD:
Have to comply with the CSRD from the 1st of January 2024 onwards. The CSRD measuring & reporting requirements are obligatory in the annual reports over the financial year 2024. This 'first' CSRD-compliant annual report will have to be published in 2025. 
Large companies that are not currently subject to the NFRD:
Have to comply with the CSRD from the 1st of January 2025 onwards. The CSRD measuring & reporting requirements are obligatory in the annual reports over the financial year 2025. This 'first' CSRD-compliant annual report will have to be published in 2026. 
4. What should I report under the CSRD?
Companies will have to report on additional information elaborated in the soon-to-be-released two sets of CSRD Sustainability Reporting Standards. The proposal for these standards has been released. Both sets of standards are required for the reporting year 2024 (report published in 2025) onwards. 
The first set of standards:
Will be adopted on the 30th of June 2023. It will include the guidelines on two main conceptual guidelines:
a. Double Materiality: Identifying all potential negative and positive impacts on people & environment. Connected with a company's own operations and its value chain.
Impact materiality: All environmental-related matters that are affected by (e.g supply chain)- or affect your business. This includes aspects such as; greenhouse gas emissions (GHG Protocol), energy efficiency, environmental footprint results (Life Cycle Assessments), and dependencies. Primary environmental data from your value chain is emphasized by the CSRD. Read more about this emphasis right here.
Impact materiality: Social considerations (working conditions, human rights, equal opportunities, etc.) you need to take into account in your value chain and culture. And your approach to business ethics;
Financial materiality: Disclosing all sustainability/ESG issues that are likely to significantly affect your company's financial health and operational performance. For this, you can rely on non-monetary quantitative, monetary quantitative, or qualitative data. Quite an important aspect to investors…
b. Quality of information: Required standards on how you should ensure your sustainability information is of high quality (e.g truthful representation, comparability, verifiability, etc.). Also explaining the standards for the general reporting and important sub-topics (e.g climate change).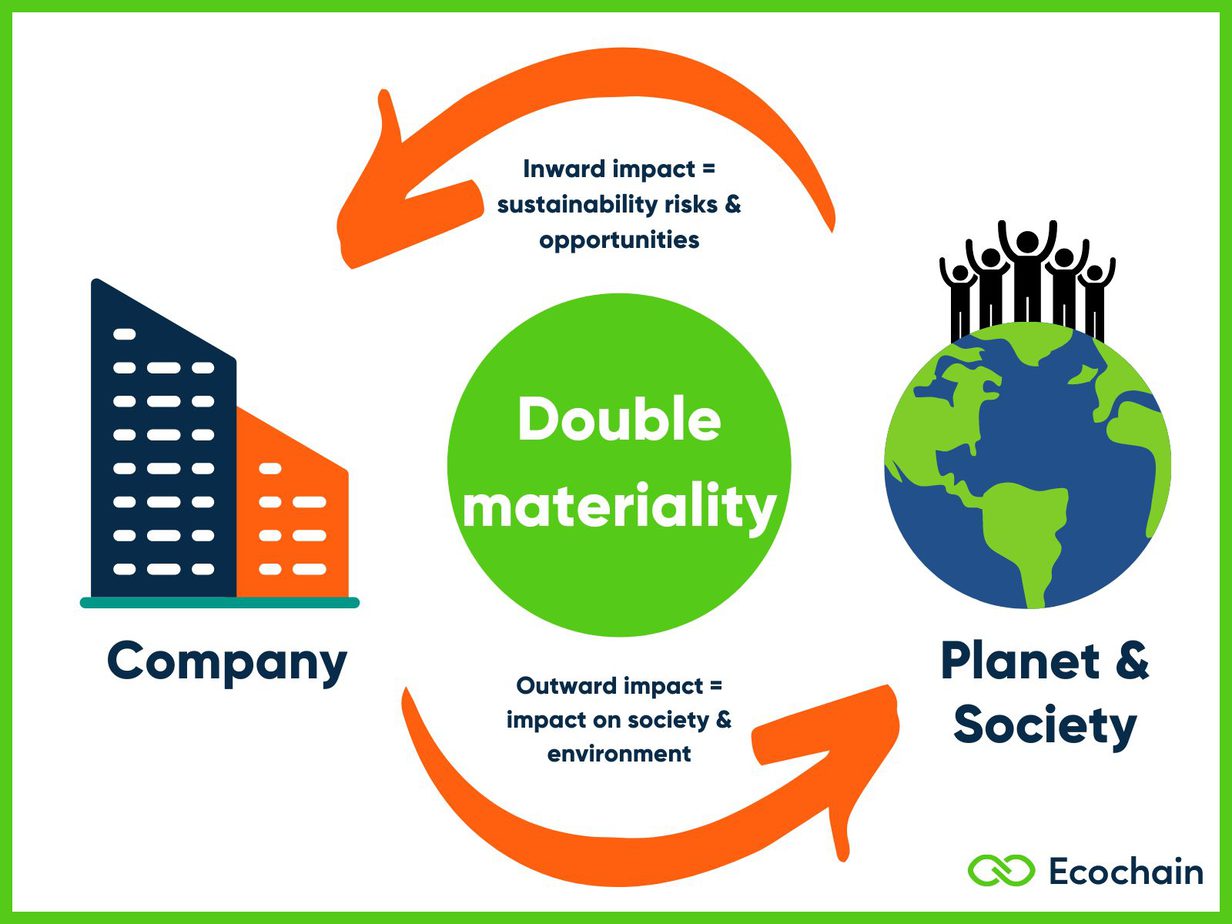 The second set of standards:
Will be adopted on the 30th of June 2024. This set will help companies to finetune their reporting and addresses:
a. The 4 remaining conceptual guidelines:
Connectivity: Anchor points to help companies connect financial reporting to sustainability reporting. And the other way around. 
Levels & Boundaries of reporting: Assessment emphasizing the importance of the value chain (scope 3) in measuring and reporting social and environmental impact. 
Retrospective and forward-looking information: Assessing Sustainability targets & indicators set by companies and progress towards achieving them;
Public good: Providing required standards for alignment and consistency between EU reporting standards and public policy agreements, goals, frameworks, and regulations.
b. Requirements for your sustainability strategy & business model and its resilience towards sustainability-related risks and climate scenarios. This includes aspects such as; 
Stakeholder engagement, 
Strategy fit with climate targets (alignment with Paris Agreement/Science-based Targets), 
Description of sustainability policies; 
Governance processes; 
External and internal control & risk management.
5. How do I comply with the CSRD reporting requirements?
The two sets of Sustainability Reporting Standards still need to be released. But the preliminary focus points (question 4) in the proposal give us an idea of the main environmental impact results required.
Climate: TCFD & GHG Protocol
The CSRD proposal stated they will follow the TCFD* in particular for climate-related sustainability information (image 2). Additionally, embracing the NFRD. This means the CSRD requires Greenhouse Gas (GHG) Protocol Reporting for company emissions. 
Conclusion: Your company will (very likely) have to measure and report its GHG data (scope 1, 2 & 3 emissions), compliant with the GHG Protocol. 
*Task Force on Climate-Related Financial Disclosures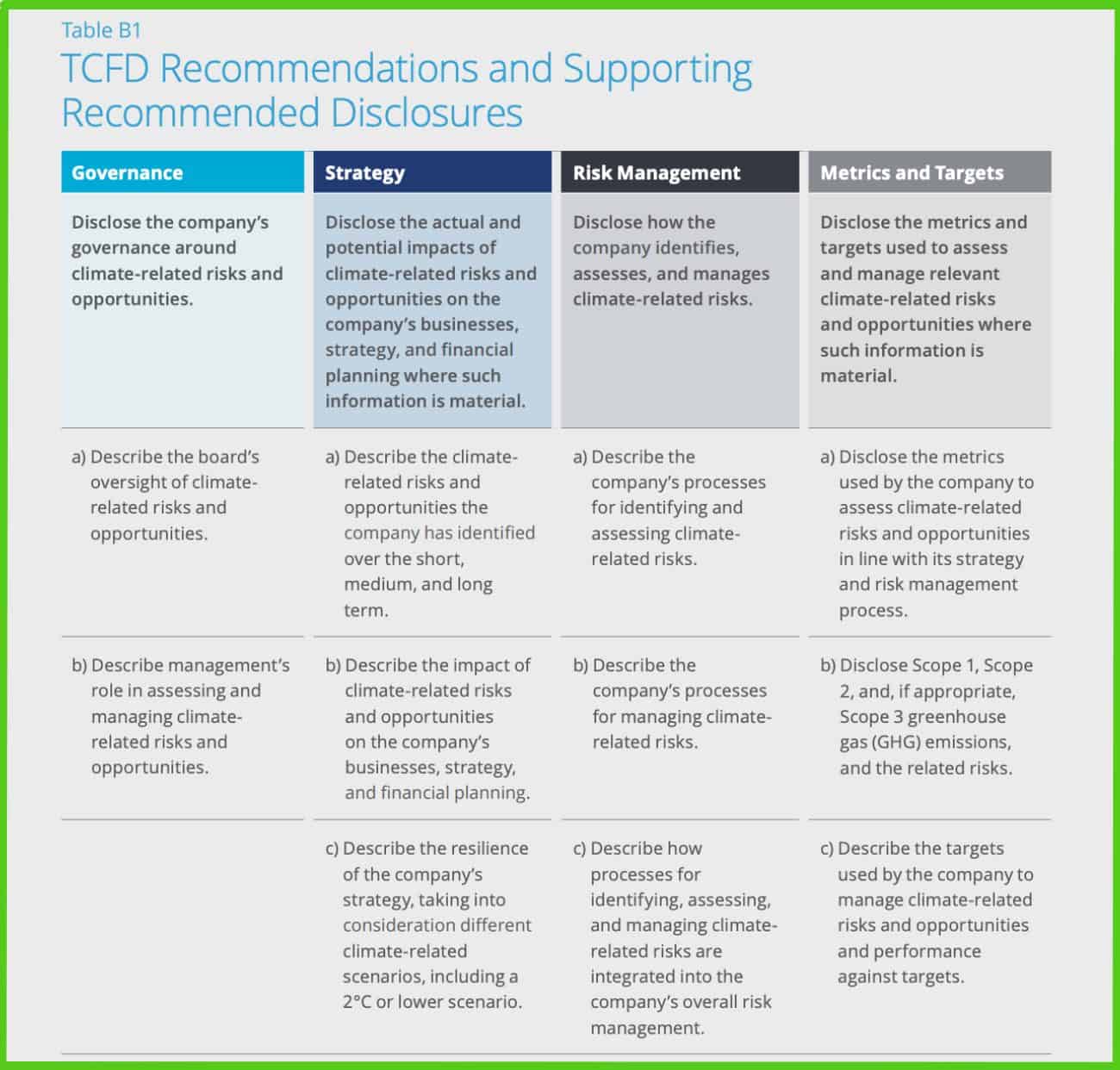 Complete Company Environmental Footprint: EU Taxonomy 
The CSRD wants companies to disclose other environmental impact types than climate alone. In their standards proposal, the CSRD follows the EU Taxonomy for other environmental impact information required. These are called the 6 criteria from the EU Taxonomy:
Climate change mitigation
Climate change adaptation
Water and marine resources
Circular economy
Pollutions
Biodiversity & ecosystems
Conclusion: Measuring these impacts requires a full environmental footprint of your company (covering 15+ environmental impact categories). Here, both the EU Taxonomy and CSRD highly recommend the scientific footprinting method Life Cycle Assessments (LCA). 
A robust footprint measurement system. 
The CSRD is here to stay. Companies have to report annually on how they operate and manage their social and environmental challenges. Additionally, the CSRD requires as much primary data as possible. Therefore, companies also need environmental data on the products they purchase (product LCAs) and feed this into their own measurements. All this reporting and data collection needs to be robust, transparent, and verifiable. Especially, as limited assurance (external audit) will be mandatory for the CSRD. Social challenges require a different approach, however, environmental data can be continuously measured and monitored. 
Conclusion: To ensure your environmental footprint is accurate, credible, and constantly accessible. It is highly advised to have a robust footprinting system in place. Allowing you to stay in control of your own data, monitor improvements, and make annual footprint comparisons.
Ecochain for company AND product footprints
Ecochain Helix
Manufacturing companies/companies who produce large portfolios use Ecochain Helix for their company environmental footprint calculations. Helix provides 95% of the data these companies need to make a company footprint according to the GHG Protocol. It measures the full environmental footprint of manufacturing sites – and creates individual LCA for all your products at the same time. Providing a company overview as well as product details.
It does all the heavy lifting, leaving only a few details to be performed manually for a full GHG company footprint. But instead of solely focusing on carbon as many company footprint calculators – Ecochain Helix shows you your full impact range according to LCA. In line with the CSRD's requirements. 
Ecochain Mobius
Many suppliers have to deliver environmental data to their buyers – due to the CSRD. They use Ecochain Mobius to create individual LCAs of their product, which buyers then feed into their own measurement systems. Read more about the role of suppliers in the CSRD here.  
6. When do I take the first steps for the CSRD?
The first set of reporting standards highly focuses on double materiality and the quality of your sustainability information. NFRD-compliant companies already have to be compliant with the CSRD from the 1st of January 2024 onwards and all other large companies in 2025. Therefore, we advise you to start preparing as soon as possible.  
Your first steps in 2022/2023 should be to:
1. Assess your double materiality and take notice of the standards in mid-2023.
Start by already assessing the double materiality of your sustainability topics (general social & environmental footprint). Aligned with the proposed CSRD framework. Take notice of the CSRD reporting standards released in mid-2023 – and apply them to your preparation work. 
2. Have an initial discussion with a third-party assurance provider.
The CSRD mandates limited assurance by a third party- requiring 'accountancy-proof' reporting. Talking to an assurance provider beforehand helps prevent misalignment with the assurance requirements. And helps you get the required data, processes, and controls in place from the start.
3. Measure your baseline environmental(LCA) & GHG performance.
Measure your baseline GHG performance- compliant with GHG Protocol – (scope 1, 2, and 3). As well as other important environmental KPIs (think of land use, water use, human toxicity, etc) calculated via the scientific method Life Cycle Assessment (LCA).
4. Start assessing social considerations in your value chain.
Use EU reference frameworks such as UNGP on Business and Human Rights, the OECD Guidelines, and the Charter of Fundamental Rights. 
5. Set targets and approve these at board level.
Set clear environmental reduction targets (e.g. Net-Zero Science-Based Targets)- based on your GHG measurements and company footprint. Which aspect of your supply chain shows the biggest impact? Additionally, set targets on how to improve the social aspects of your business.
6. Start monitoring your KPIs.
Get a grip on all your environmental, economic, and social impacts. Start monitoring progress.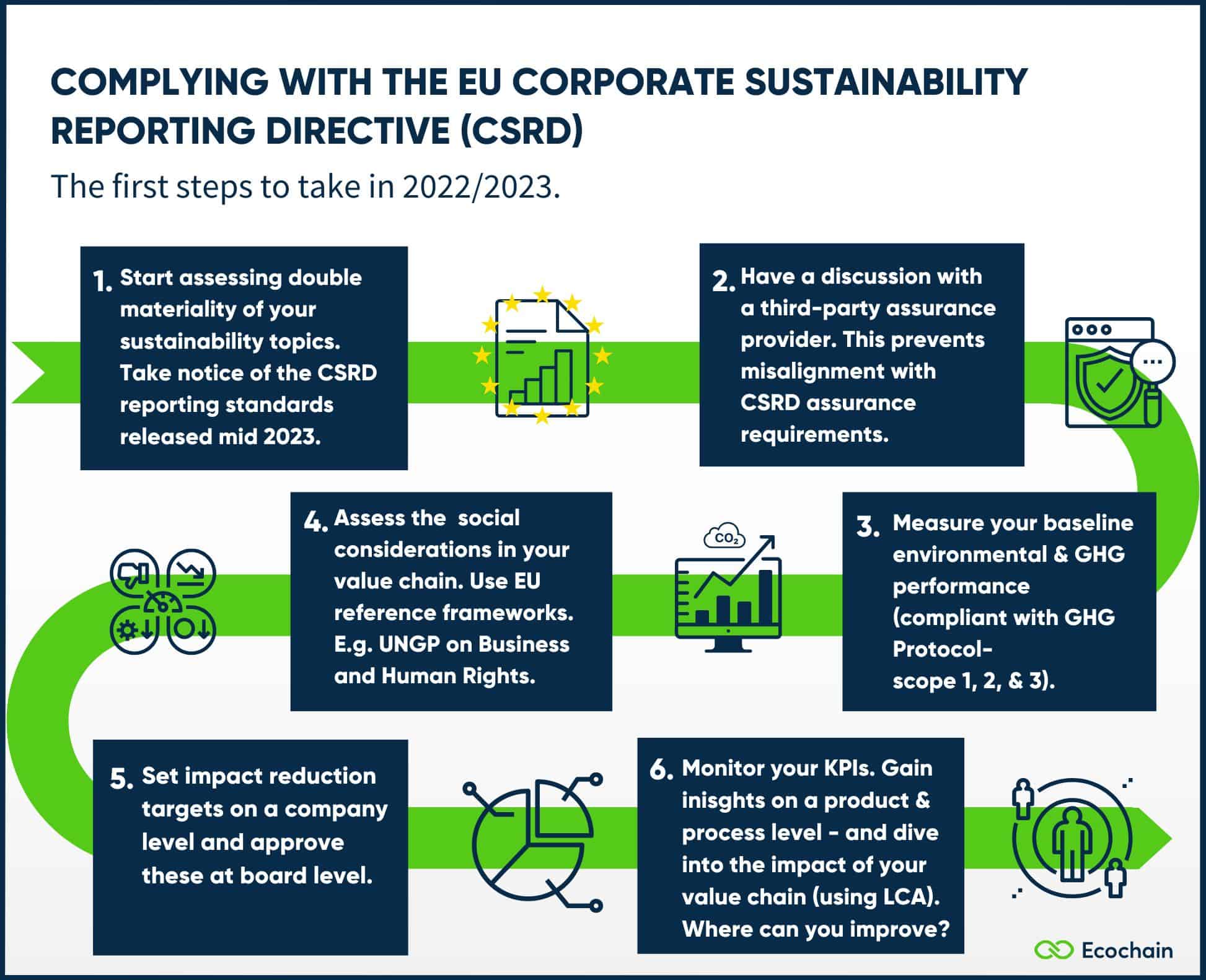 7. How are the CSRD and the Taxonomy Regulation related?
The EU Taxonomy requires companies subject to the NFRD and CSRD to disclose to what extent their activities are "environmentally sustainable". It assesses their sustainability efforts based on the 6 impact criteria mentioned in question 5.  Information that is especially interesting to investors. As it shows which aspects of your business are sustainable. Allowing better-informed decision-making regarding green investments. 
8. Will the CSRD bring new business opportunities?
Yes. Companies' marks on our people and planet are increasingly placed under a magnifying glass by legislation and customer demand. The CSRD's required environmental footprint insights allow companies to:
Companies often simply need to comply with environmental regulations to continue doing business- or not miss out on business. 
Work on new product developments:
New products should be as low in emissions as possible for many reasons. Product footprints (product Life Cycle Assessments) give you the data you need to continuously make product improvements. Implementing Ecodesign in your products. 
Create shared value business collaboration in supply chains:
The supply chain often accounts for more than 80% of a company's or product's environmental footprint. Footprint insights allow highly valuable collaboration with suppliers that can lead to improved products and/or services. 
Improve Marketing & Sales communications:
81% of consumers want companies to help improve the environment. With footprint insights, marketing & sales can see where they already have an edge over competitors – and how to do better.
Helps executive levels & strategic management:
Future-proofing your company requires strategic decisions on reducing environmental impact. Sustainability is now an indispensable aspect of short- and long-term business. Just ask your investors…
9. In what format do I eventually report the CRSD?
The CSRD wants companies to prepare their report in XHTML format (ESEF Regulation). As the reported information has to be easily accessible to investors and other stakeholders in the European Single Access Point (ESAP) database.
Therefore, companies have to 'tag' their reported sustainability information according to a new digital categorization system. This system is under development and will be announced together with the two sets of Reporting standards. 
Where do companies need to report the new directive?
The CSRD will have to be reported on in the management report– instead of a separate sustainability report. Therefore, financial and sustainability information will be disclosed at the same time. Companies also need to tag their sustainability information digitally to make it available in the upcoming European Single Access Point (ESAP) database. 
10. What does the CSRD mean for SMEs?
From the 1st of January, 2026 SMEs (small-to-medium-sized companies) with securities listed on regulated markets- have to start reporting CSRD-compliant. However, the listed SMEs have simpler standards for reporting than large companies. Non-listed SMEs can choose if they want to use the CSRD's reporting standards on a voluntary basis. The reporting standards for SMEs will be adopted on the 30th of June 2024.
Still, SMEs will increasingly receive requests for sustainability information (primary environmental data) from stakeholders who have to comply with the CSRD. Or use this information as a core in their business model to grow or operate future-proof.