IPCC's message is clear: Ambitious immediate climate action is needed – What can business leaders do?
Capacity & Awareness
Although the message of the IPCC released at the beginning of August wasn't a surprise compared to that of 2013- its contents are still very unsettling.
Our natural world is heating up at an unnatural speed. And as we can currently already see- this process has many different consequences. Consequences that affect us all in every region of the earth.
Unless we all commit to immediate, rapid, and large-scale reductions in greenhouse gas emissions. Limiting global warming to close to 1.5°C or even 2°C won't be reachable anymore.
It doesn't sound very hopeful. And even seems late to still start with climate action as a business- but, it's not too late.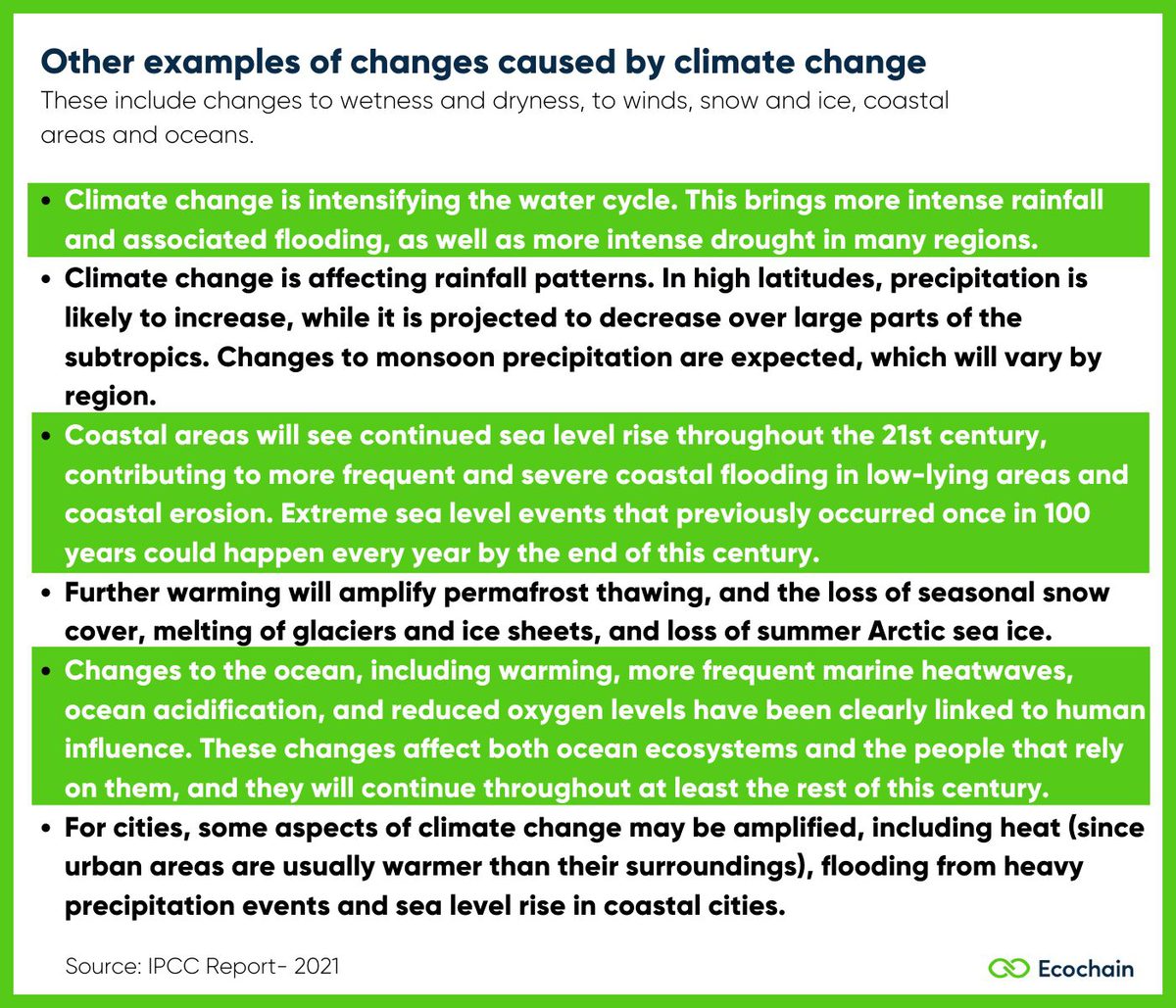 Drastic reduction measures are necessary
This report- in which 234 scientists analyzed 14,000+ climate research papers- also shows us where we should focus our actions to limit the intensity of these changes.
The IPCC report, yet again, highlights the role of greenhouse gas emissions (GHG) for our current critical situation. More specifically, it shows that greenhouse gas emissions are responsible for at least 1.1 °C of warming since 1850-1900(!!).
This means that over the next 20 years, our global temperature is expected to reach and/or most likely will exceed the 1.5°C of warming. Even if we manage to immediately quit using fossil fuels- the carbon currently present (and it's long-lived nature) will continue to warm the planet for a while. The longer we wait, the more challenging it becomes to meet the 1.5°C-2°C limit.
The learning hasn't changed with the IPCC Report, it's only been emphasized. 
Our collective climate strategy has to come down to ceasing our use of fossil fuels, using clean energy sources and working towards net-zero. Most importantly- we have to act now.
"With just a temporary overshoot of 1.5ºC, we can avoid crossing many dangerous climate tipping points."

– IPCC Report 2021
Adhering to the Paris Goals remains the solution
The 2015 Paris Agreement already set out a global framework to limit global warming to well below 2°C and limit it to 1.5°C. The goals for the 190 countries involved: cut 55% of GHG emissions by 2030 and be completely climate neutral by 2050.
Next to necessary governmental action, business leaders, play a large role in stabilizing the climate. Many companies have supply chains located around the world. Meaning that sufficient climate action can truly make a difference in more than just one place.
By adhering to the Paris Goals and cutting greenhouse gas emissions to net-zero, businesses both make themselves- as well as our planet: future-proof.
So, how can business leaders make sure their climate strategy adheres to the 1.5°C-2°C goal?
"Stabilizing the climate will require strong, rapid, and sustained reductions in greenhouse gas emissions, and reaching net zero CO2 emissions. Limiting other greenhouse gases and air pollutants, especially methane, could have benefits both for health and the climate."

– IPCC Report 2021
Staying in the 1.5°C-2°C boundaries: The 5 steps to net-zero
Luckily there are a lot of means and protocols to help companies create a climate strategy according to the Paris Agreements. However, all successful climate strategies start with measuring your carbon footprint first.
Here are our 5 steps that will lead your company to net-zero:
Step 1: Establish your baseline measurement of Scope 1, 2 and 3 emissions.
To start off, you first need to understand where your GHG emissions come from. Your direct, indirect and supply chain greenhouse gas (GHG) emissions– also called scope 1, 2, and 3 emissions. Are the key metrics for your climate strategy. You can measure your GHG emissions by performing a Life Cycle Assessment on a product and/or company level.
Measuring and reporting your scope 1, 2, and 3 GHG emissions is done according to the GHG Protocol. The GHG Protocol is very useful and supported by most LCA tools. It provides standards that create a common ground for many sustainability certifications and reporting systems.
Step 2. Analyse your impact hotspots and identify the highest potential points for reducing your emissions.
Once your scope 1, 2, and 3 emissions are measured- it's time to analyze them. An LCA measures the environmental impact associated with every step in (all) your product's lifecycle (from production to waste). Therefore, you now have crucial intel on GHG emissions emitted during every step within your supply chain.
At what step(s) does the biggest impact take place?
Does it come from the fossil energy you use for your production processes? Or the extraction of your raw materials?
Instead of doing everything at the same time, your impact hotspots tell you exactly where you should focus your climate efforts. A crucial step in the effectiveness of your climate reduction measures.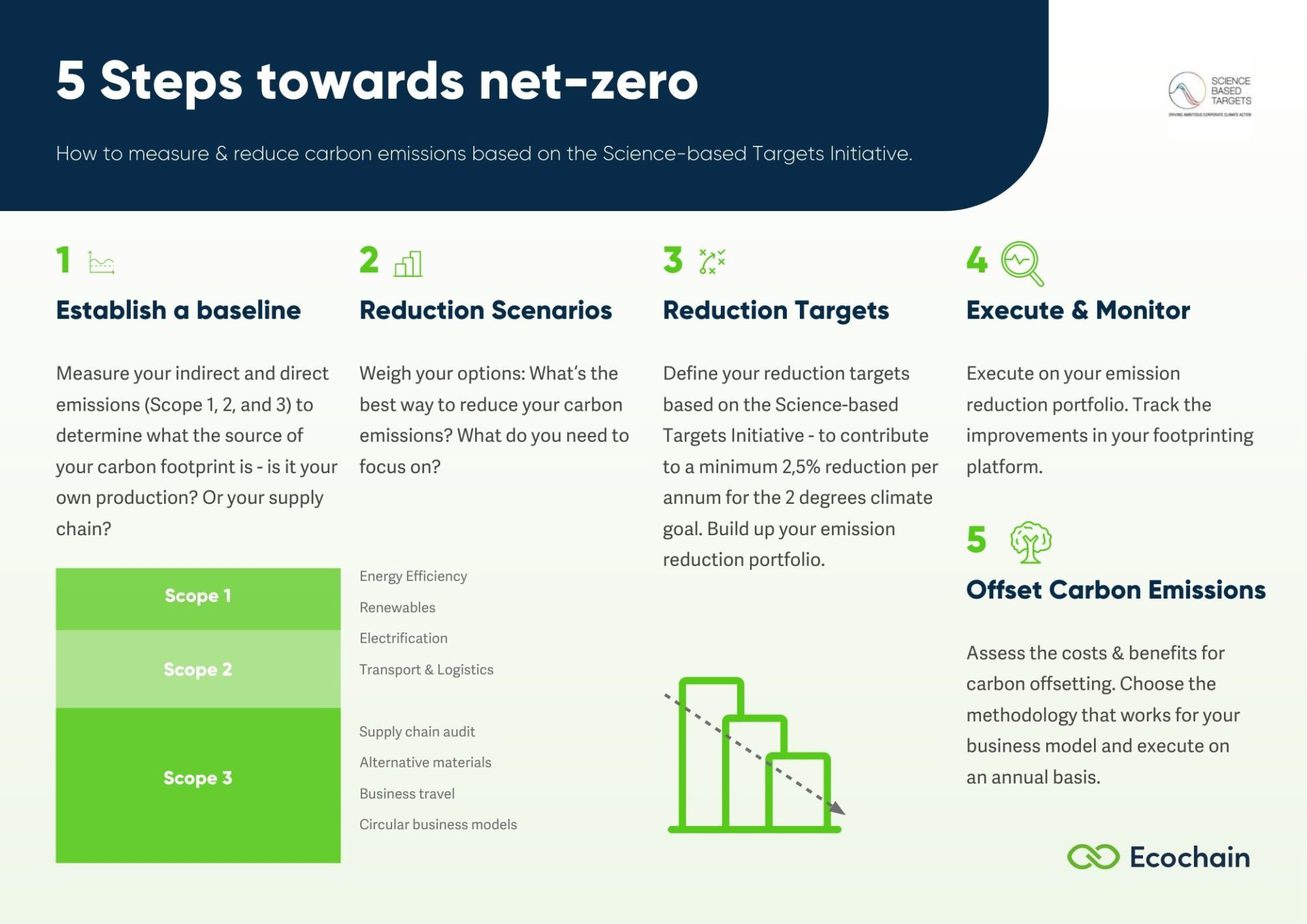 Step 3. Set KPI's & (Science-based) targets
Once your reduction measures are created, ensure they are measurable. When following the GHG Protocol, organizations often use the Science-Based Targets for setting their targets and KPI's.
Science-based targets help companies claim that they operate 'within the boundaries of 1.5 or 2 degrees scenario'. They link a companies' targets to the Paris Agreement.
These targets are created by the Science Based Targets Initiative (SBTi). With help of the SBTi you define feasible reduction targets and implementation strategy that are backed by reality. Companies can even formally submit their targets to SBTi for verification.
Step 4. Execute & monitor your carbon reduction plan
It's time to put all your plans into action. Execute your reduction plan and start monitoring your science based targets. Constantly keep track of your carbon reduction portfolio to track your improvements and/or analyse where more effort are necessery.
Step 5. Analyze & offset your carbon emissions to become carbon neutral
Never completely rely on carbon offsetting in your climate strategy. First measure and reduce your carbon footprint as much as possible and offset your remaining, most unavoidable emissions (last 5-10%).
You can assess the costs and benefits for offsetting your carbon emissions. Compare different offsetting methodologies (VER, gold standard, TreesForAll and others) and measure your progress accordingly. Read more about the do's and don'ts to ensure your carbon offset is credible here.