Case study
The environmental footprint of headphones – How Skullcandy helps you live a sustainable life at full volume
Other
Kitchen appliances, TVs, phones, iPads, laptops, hair blowers, headphones…
It's one of the fastest-growing demands & waste streams in the world: consumer electronics. The UN estimates humans generate 50 million tonnes of electronic (EE) waste- annually.
Imagine all the material resources and products necessary for the production & packaging of all these goods (mining metals, batteries, plastics, etc…). When they die, only 20% are currently recycled.
Things need to change.
Even the smallest music earbuds help people live a sustainable lifestyle.
A music lifestyle fit for fighting climate change
The original audio lifestyle brand, Skullcandy, is based in Park City, Utah. They literally see the impacts of climate change happening through their office window in real-time — shorter winters, less snow, and weather extremes.
Skullcandy's employee population & customer base are made up of passionate outdoor enthusiasts. They care about the health of our planet and it hurts them to see its current condition.
The Skullcandy team knows it has an important role to play. So, they want to take some real steps to fight climate change, reduce the impact of their products, and inspire the market to change.
But where do you start? Materials? Packaging? Recycling?
"The health of the planet is important to our employees and consumers. It is important that we begin to take action to reduce our impact. Ecochain Mobius has allowed us to measure our impact and identify its sources so that we can start to implement change."

Wim de Jager – COO at Skullcandy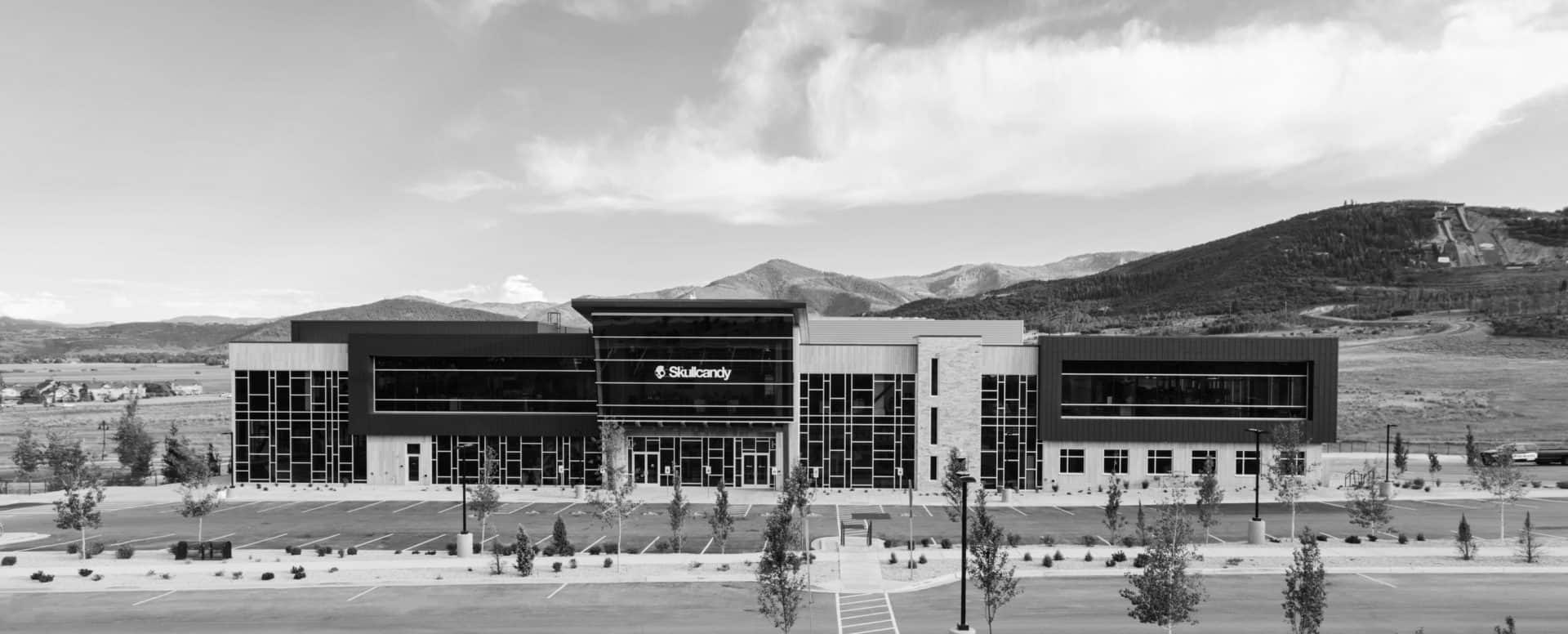 Methodology
Skullcandy wanted to gain complete insights into the environmental footprint of its products and analyze where the biggest impact came from. Because you can't improve without knowing where you stand in the first place. 
They started off with a good impact overview of the products within their three main product categories:
Wireless headphones
Wireless earbuds
Wired earbuds
How do you find out where your biggest impact comes from?
Environmental footprints are calculated by performing the scientific method Life Cycle Assessment (LCA). These LCA's are conducted in Ecochain's product footprint tool Mobius.
An LCA connects 15+ environmental impact types to each step in a product's lifecycle. From the impact of the raw materials for production, to what happens when it's wasted. However, you can choose different measurement scopes, differing in the amount of lifecycle phases you include in your LCA. Skullcandy's first LCA scope was cradle-to-gate; the footprint from production until leaving the factory gates.
One of the main outcomes of an LCA is a carbon footprint — expressed in kg CO2-eq. These footprints give insights into how & where most of the negative impact comes from. We call these insights 'impact hotspots.' This is crucial intel – it shows Skullcandy exactly where to efficiently focus its impact reduction efforts.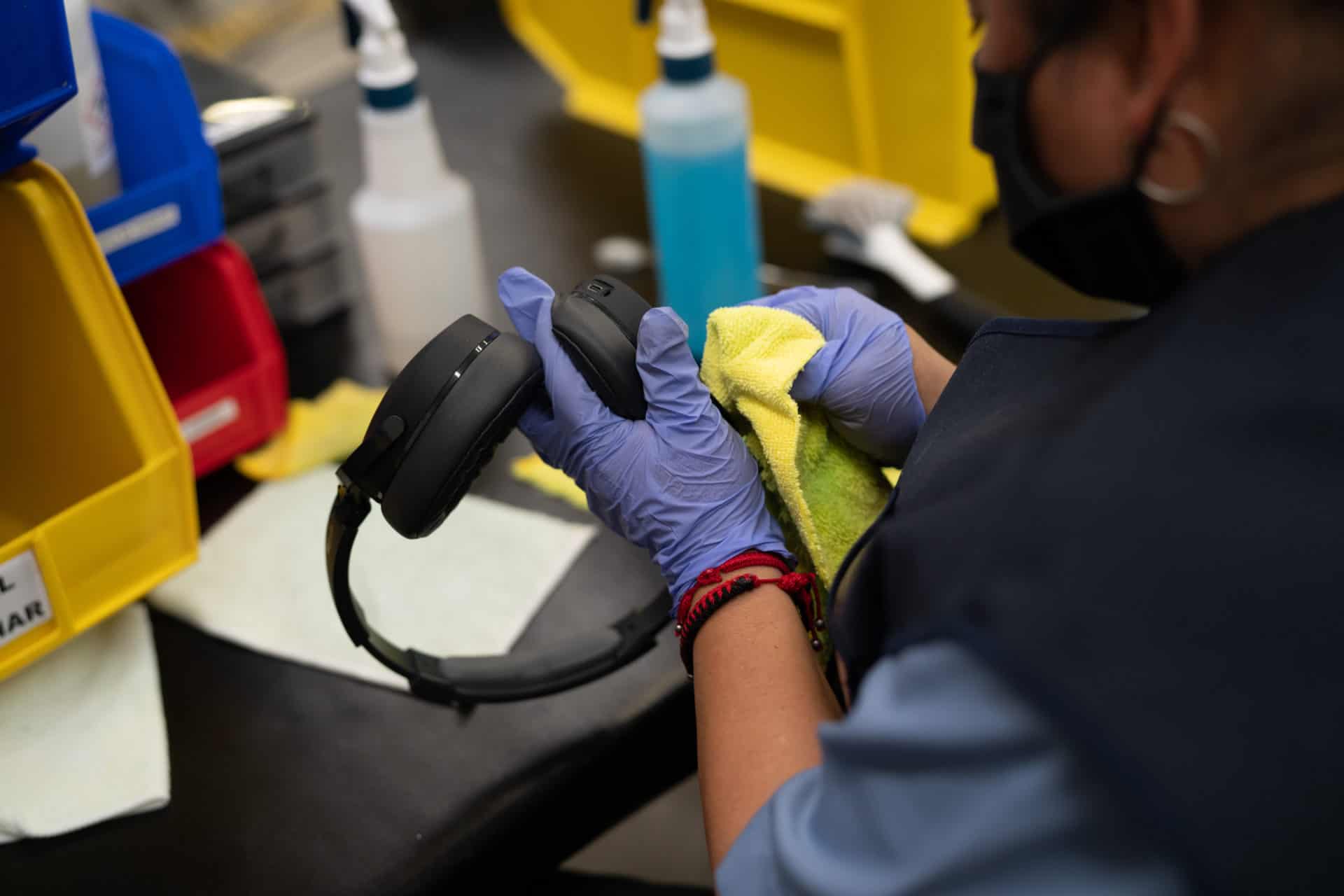 The results: Wireless headphones have the biggest impact
With a carbon footprint of 14.2 kg CO2-eq, the average wireless headphone has the greatest environmental impact. This is mainly a result of their size: they simply need more materials to be produced.
Wireless earbuds came in second place with 5.9 kg CO2-eq because they require most of the same components as the wireless headphones.
Wired earbuds come in third with just 0.5 kg CO2 -eq (!!). The reason: is they are small and don't need batteries.
Their biggest impact hotspots are:

The batteries for the wireless electronics.
The electrical engineering parts for wireless electronics. Such as a PCBA – which is the small motor that performs the main functions of wireless earbuds and headphones.
The plastics used for the production of wired headphones.
The packaging for wired headphones.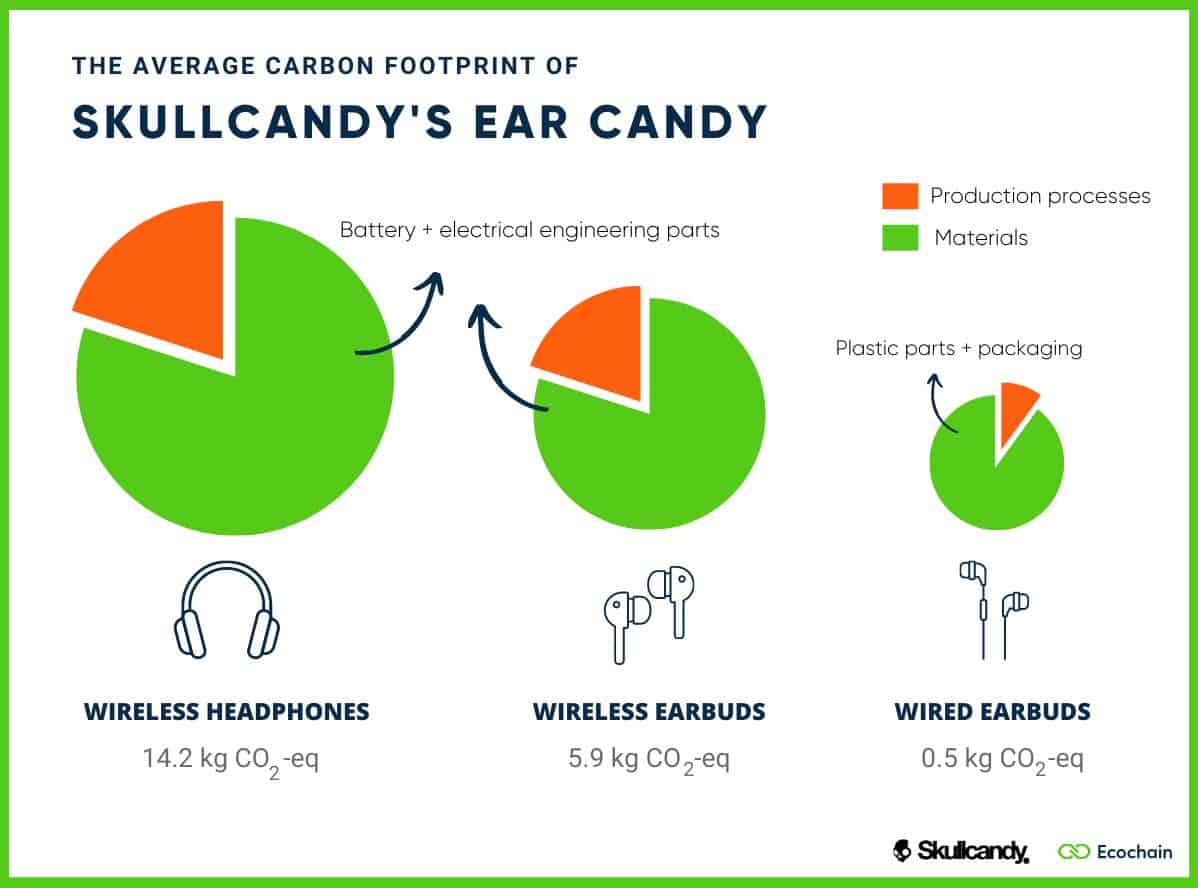 Improvements: Size, efficiency & recycling
These impact hotspots show Skullcandy where to focus their improvements:

1. Batteries
Batteries need to be smaller & more efficient.
Skullcandy already implemented this change for one of their bestselling earbuds: Dime true wireless earbuds. The product now has a carbon footprint of just 2.4 kg CO2-eq.
2. Electrical engineering
Impact-heavy components have to be replaced with renewable & recyclable alternatives.
Skullcandy is actively looking for more sustainable alternatives. It will be modeling these alternative components' impacts in Ecochain.
Skullcandy's recycling & upcycling program
Skullcandy also has a recycling & upcycling program. Consumers return old products to reverse logistics partners who analyze the state of the products. The returned products are then either upcycled or recycled. Both results help reduce impact by eliminating the production of completely new products and components.
Skullcandy's program goal is to keep 1 million pounds of their products out of landfills by 2025. To this day, they are already halfway to meeting their goal with:
Units withheld from landfills: 627,213
Weight withheld from landfills: 525,620 lbs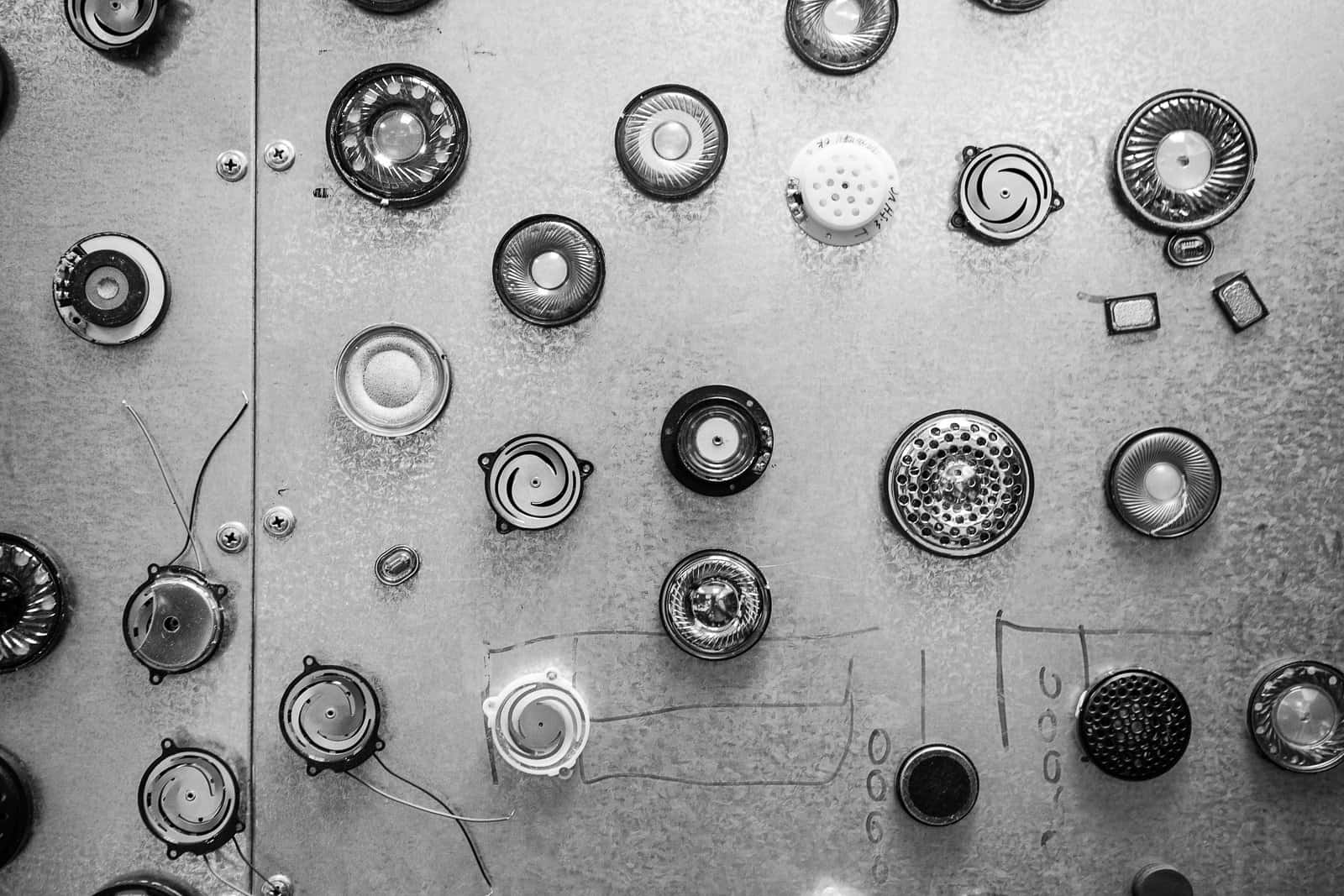 3. Plastic product components
Plastic product components have to be replaced with renewable & recyclable plastic alternatives (bioplastics or recycled plastic).
Skullcandy is analyzing plastic alternatives to use, such as bioplastics or recycled plastic. Again, recycling old products plays an important role.
In fact – in spring 2023, Skullcandy will release a new 'ground up' product completely made from plastic alternatives. So, stay tuned…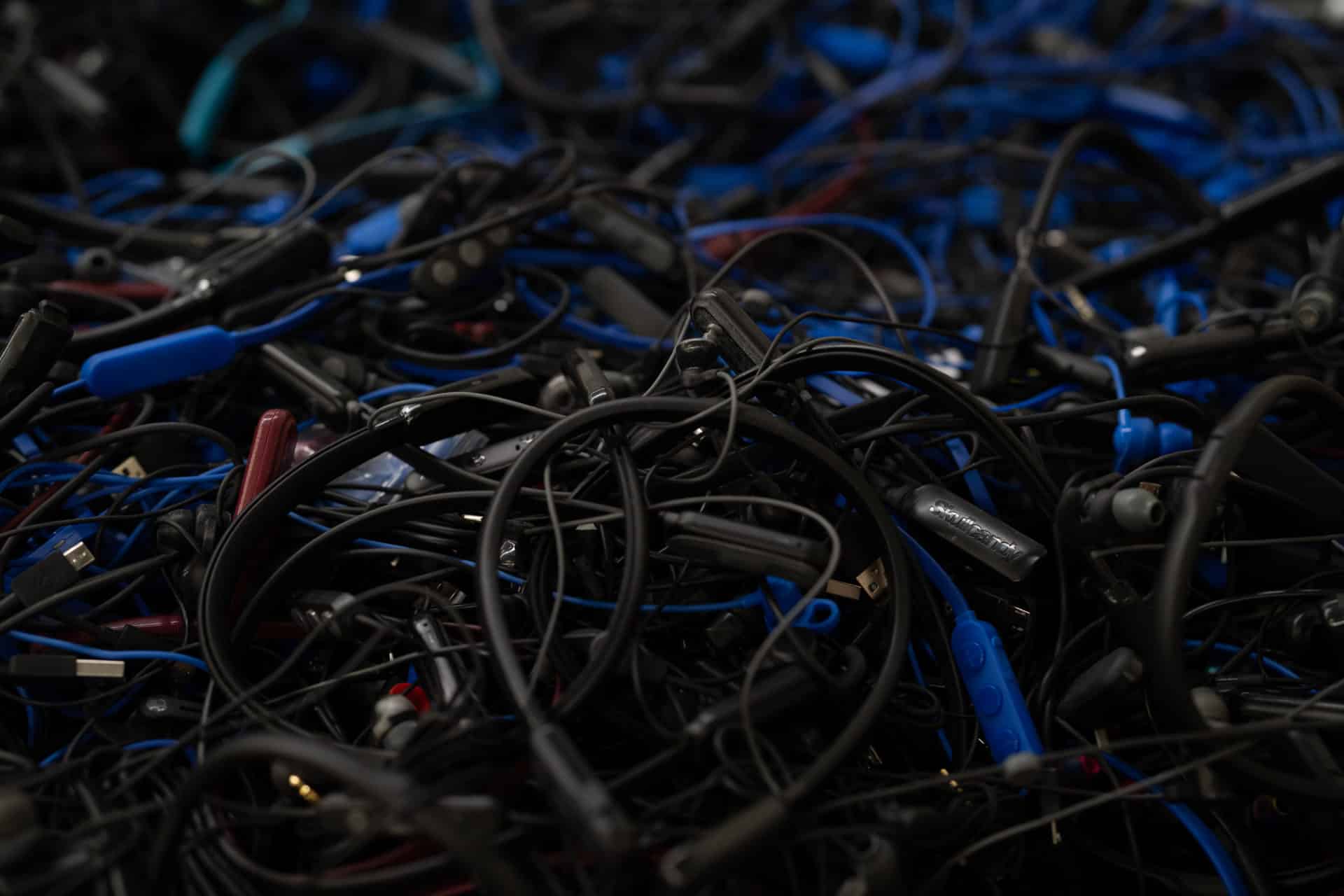 4. Packaging
Packaging simply has to be more sustainable.
Skullcandy's packaging is now 100% recyclable, and the size of the packaging has been dramatically reduced. By reducing their packaging size by 20%, Skullcandy has also reduced the impact of transport and shipping.
"Moving forward, we will use Ecochain Mobius in our production decision-making processes. Carbon impact will now have a seat at the table when we are making decisions for our future products."

Rowan Davis – Sourcing Specialist at Skullcandy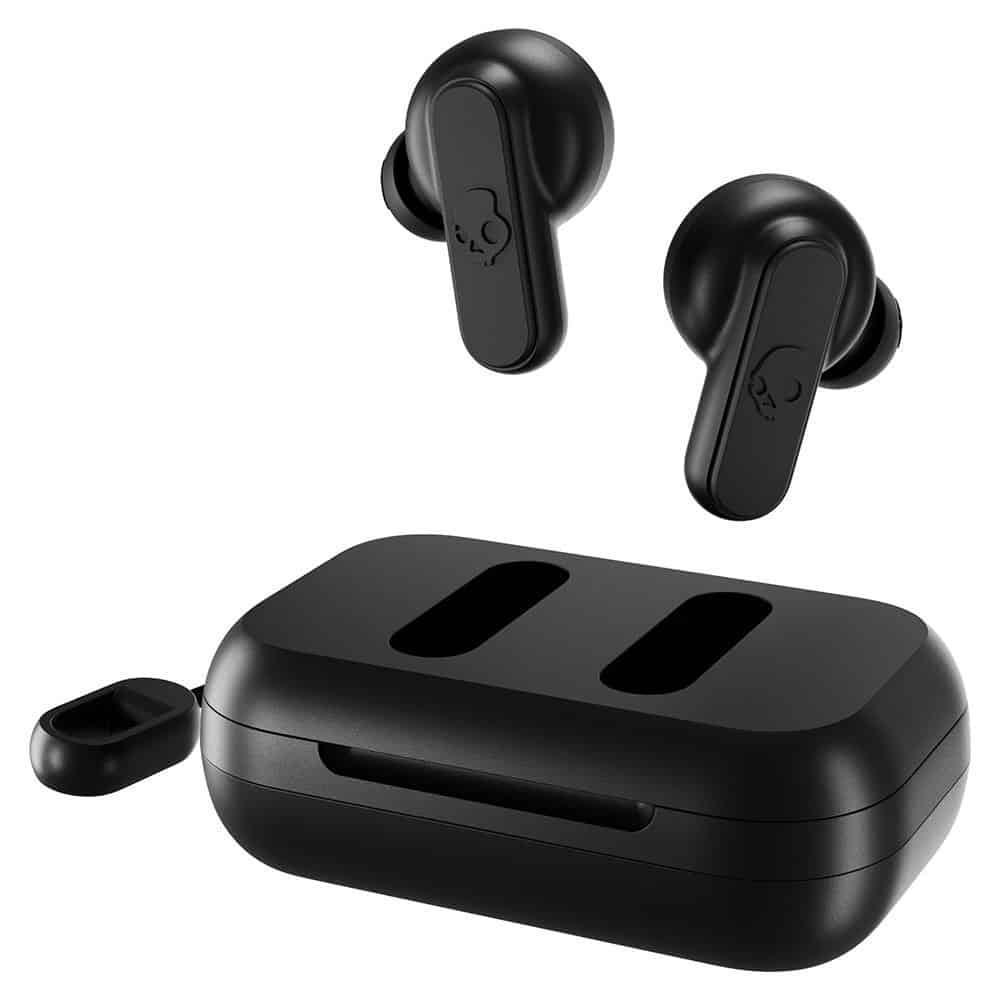 Sustainability at the core for new generation products
With a good general overview of its impact, Skullcandy can now implement environmental intelligence in every decision-making process.
The next steps? Calculate the carbon footprint of ALL Skullcandy products, compare them to alternative products, and improve their design with environmental insights enabled by Ecochain Mobius.
With this environmental data, sustainability will be at the core of the new generation of Skullcandy products and in all future product development.
We can't wait to see the results.
Tackling climate action on multiple fronts
Skullcandy knows the fight against climate change requires climate action on many fronts. Next to their ongoing sustainable product improvements, they:
Partner up with various organizations that want to make measurable progress in the fight against climate change. One of these organizations is Protect Our Winters (POW), with whom they lobby senators and other state representatives (in the U.S) to take real action in policy and law-making tackling climate change.
Implemented the Carbon Checkout Program on their website. When you buy a product on Skullcandy.com you can now opt to make your order carbon neutral. A small amount is added to your total, which their partner Carbon Checkout invests in renewable energy projects that offset CO2 emissions globally.
Enabling many to take the same steps toward a healthier planet.
"Our next steps will be to continue to evaluate our carbon footprint in each product from the data we have received and look for new ways to reduce it. We will continue to partner with Ecochain to make sure we are holding ourselves accountable in making reductions and understand where the impacts have opportunity for improvement."

Rowan Davis – Sourcing Specialist at Skullcandy