The 5 steps to develop an effective emission reduction strategy
Footprinting & LCA
*This guest article was written by our wonderful sustainability partner Nexio.
Congratulations! You've calculated your company footprint and can now identify the emission hotspots in your business operations.
You know where to focus your reduction efforts- but where do you start?
Carbon offsetting may seem a great option, however, it's not a long-term solution. Meaning: it's time to start building your emissions reduction strategy.
Let's go!
Developing an effective emission reduction strategy – 5 steps to success
Your reduction strategy should provide a short- to medium-term roadmap. Say, 1 to 5 years- to implement measures to reduce emissions. Developing and implementing such a strategy will make sure that you reduce emissions in the most cost-effective and impactful way. All while meeting your targets and remaining within budget.
1. Identify reduction opportunities
An obvious starting point is to look at the categories that represent the largest sources of your emissions. However, these should by no means be the only areas that you investigate. Other smaller sources often provide good low hanging fruit opportunities that are easy and cheap to implement. They could even provide an excellent return on investment.
A good example here is reducing electricity consumption through behavioural change initiatives. This has been shown to potentially reduce energy consumption by up to 19%.
Below you'll find a list of examples of reduction opportunities per *scope.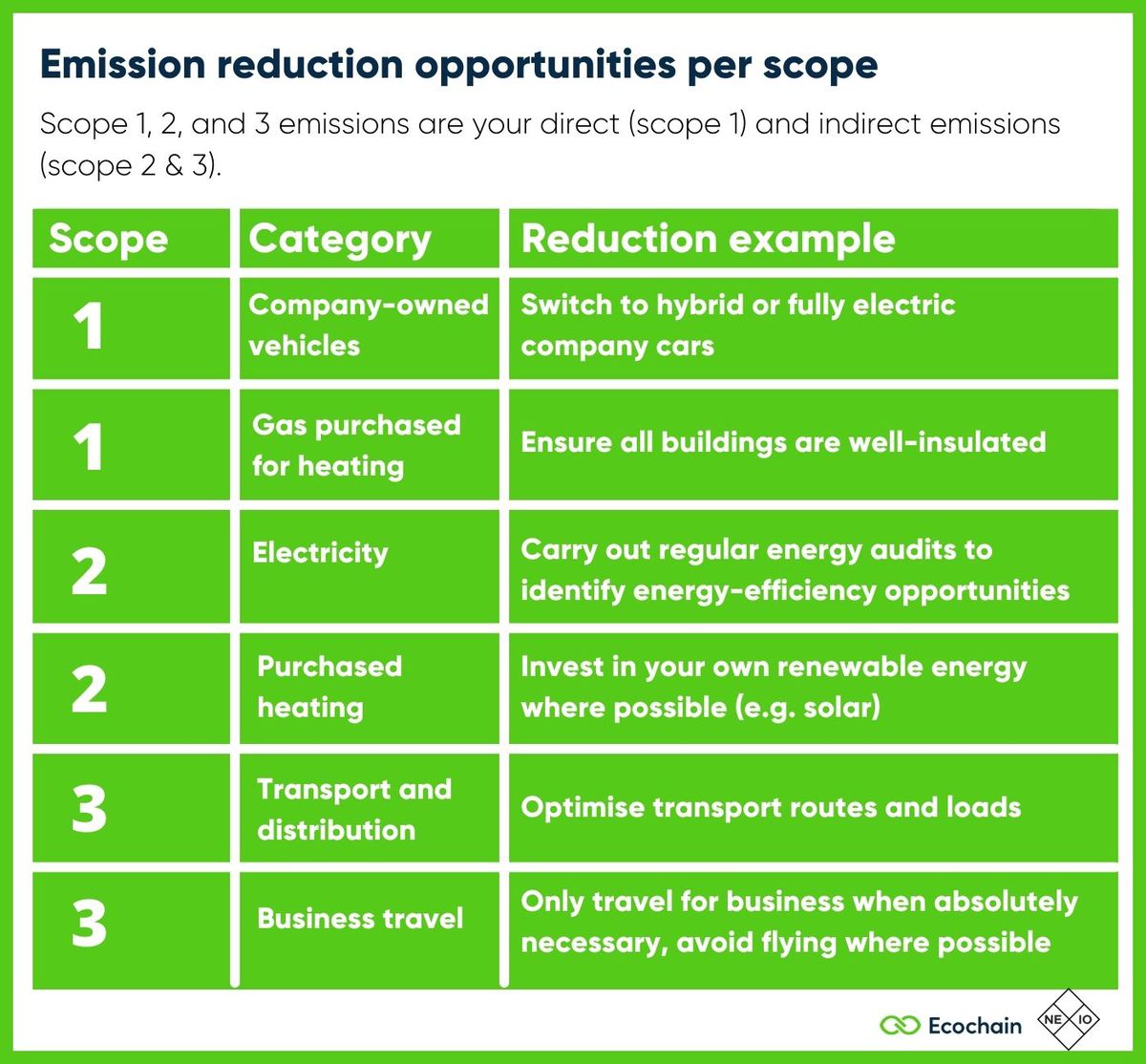 *Scope 1, 2, and 3 emissions are your direct (scope 1) and indirect emissions (company owned = scope 2 & not owned but related = scope 3). Read more about them right here.
Opportunities should be investigated within all categories of emissions. However, in some cases, the involvement of experts might be necessary and can be highly recommended. Experts in carbon emissions can provide a valuable outside perspective and will know which opportunities are feasible, impactful and result in genuine and permanent emissions reductions.
2. Establish costs and impacts
Once you have a list of possible reduction strategies, the following should be determined for each opportunity:
The cost of implementation;
The emissions reduction potential;
The required timeline for implementation.
This information will allow you to calculate the potential climate return on investment for each opportunity.
3. Prioritise measures
Aside from the cost, all opportunities should also be assessed according to several important criteria. It can be helpful to create a matrix that plots each opportunity based on criteria's, such as:
Complexity;
Impact on operations;
Additional benefits;
Stakeholder requirements;
Timeframe.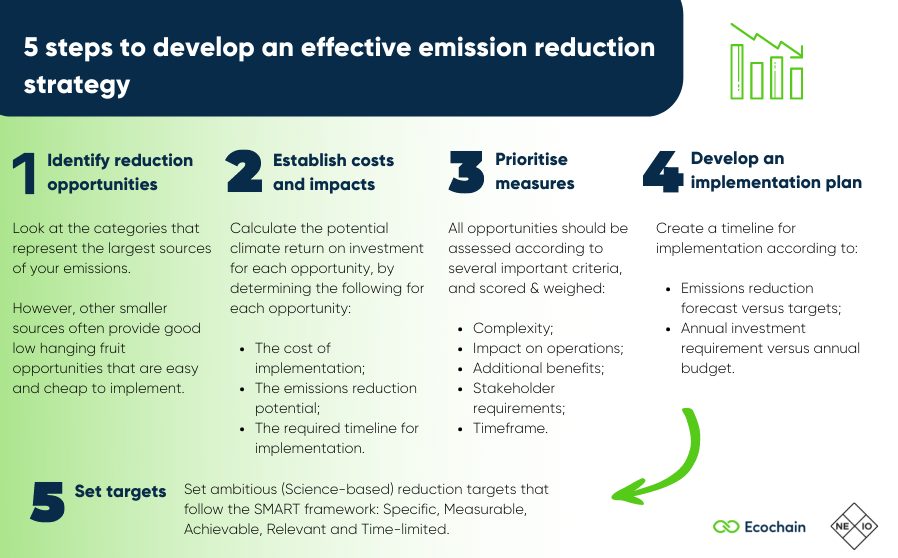 These criteria can be scored and weighted. Once combined with financial returns, this will give you the information you need to prioritize and rank each potential measure.
4. Develop an implementation plan
Once you've mapped out all the potential measures and have your list of priorities, you can create a timeline. This timeline should indicate when each measure is to be implemented according to:
Emissions reduction forecast versus targets;
Annual investment requirement versus annual budget.
Responsibilities should be set here and- ideally, a committee should be put together to oversee the implementation process. It is recommended for this committee to meet bi-monthly in order to keep up to date with the progress. Additionally, the reduction strategy should be updated annually to add any additional potential measures identified and update the implementation plan.
5. Set targets
Finally, we recommend setting emissions reduction targets to provide a goal to work towards and remain accountable. Targets should follow the SMART framework: Specific, Measurable, Achievable, Relevant and Time-limited.
An example here could be: Reduce your absolute scope 1 and 2 emissions by 25% by 2030.
Indeed- although your targets should be achievable, they should also definitely be ambitious.
Try to focus on targets for your own operations first, since this is where you'll have the most influence. However, eventually work towards including value chain targets as well.
We also recommend setting Science-Based Targets by using methodologies developed by the SBTi, the Science-Based Targets Initiative.
Once you've gone through all these steps, you're ready to start implementing your reduction measures.