Ecochain Mobius
Optimize your environmental footprint
Ecochain Mobius, LCA software built for the business user, helps you measure your product's footprint with easy-to-make LCAs. Seamlessly align diverse data streams from suppliers, departments, and operations to drive impactful and sustainable change.
Why Mobius is your go-to LCA software
Business user-friendly
Ecochain Mobius is crafted for the business user. You don't need an LCA degree to measure your product's footprint. Our intuitive user interface helps you create an LCA in a jiffy.
Science-based results
With Ecochain Mobius, any insight you get is backed by science and supported in common methods and standards. Gain accurate science-based environmental insights on every product, process, activity, material, or ingredient.
Actionable insights
You shouldn't have to wait long for insights that you can act upon from your LCA software. Being cloud-based, Ecochain Mobius provides actionable insights, in your preferred format, instantly.
Create
Model your product and its impact
Create your complete product inventory in Ecochain Mobius. Tap into the various environmental databases we offer, like Ecoinvent, by linking the product's impact to appropriate datasets. Choose the scope of your LCA and assess the impact of your product—right from the materials and components to processes involved in the manufacturing process.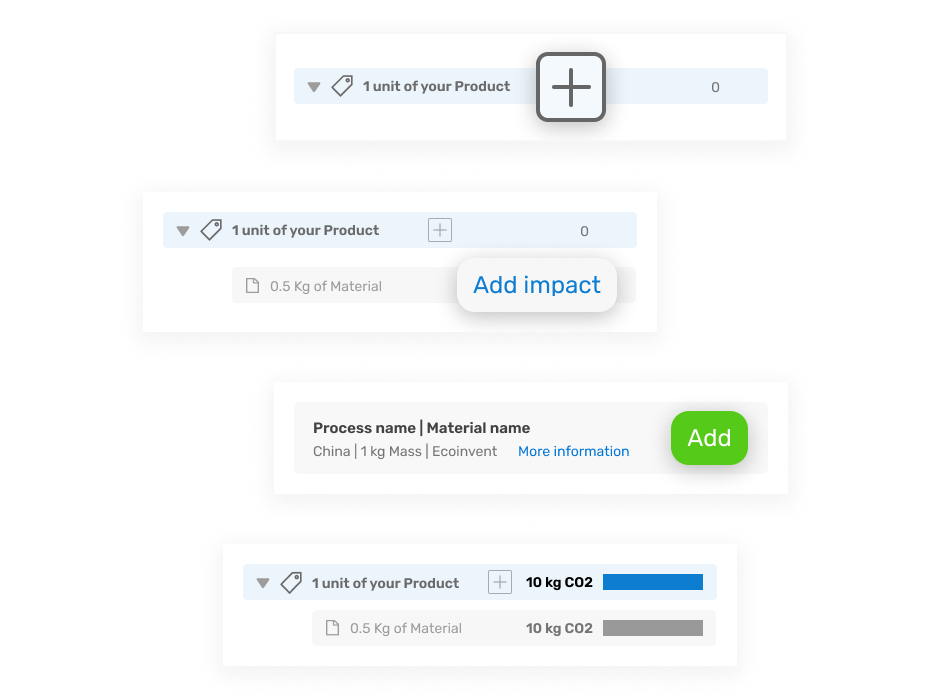 Measure
Zoom in on the hotspots
Once you model your products, dive into the impact each phase creates. You don't need a magnifying glass to see the major contributors to your product's environmental impact. Ecochain Mobius highlights the hotspots for you to assess and change if necessary.
Compare
Compare different products and scenarios
Incorporate iterations in your product design process. Substitute materials in your products' composition and see if it has a lower or higher impact. You can also compare two products in your portfolio to see which one is more sustainable.
Share
Share it with your team
Want a concise one-pager of your product footprint? Done! Ecochain Mobius summarizes your LCA result into a PDF. Want to dive deeper? No problem! Download your product's inventory as a csv file or convert your results into a comprehensive xls file, showing all the impact categories in an overview. Ecochain Mobius does it all.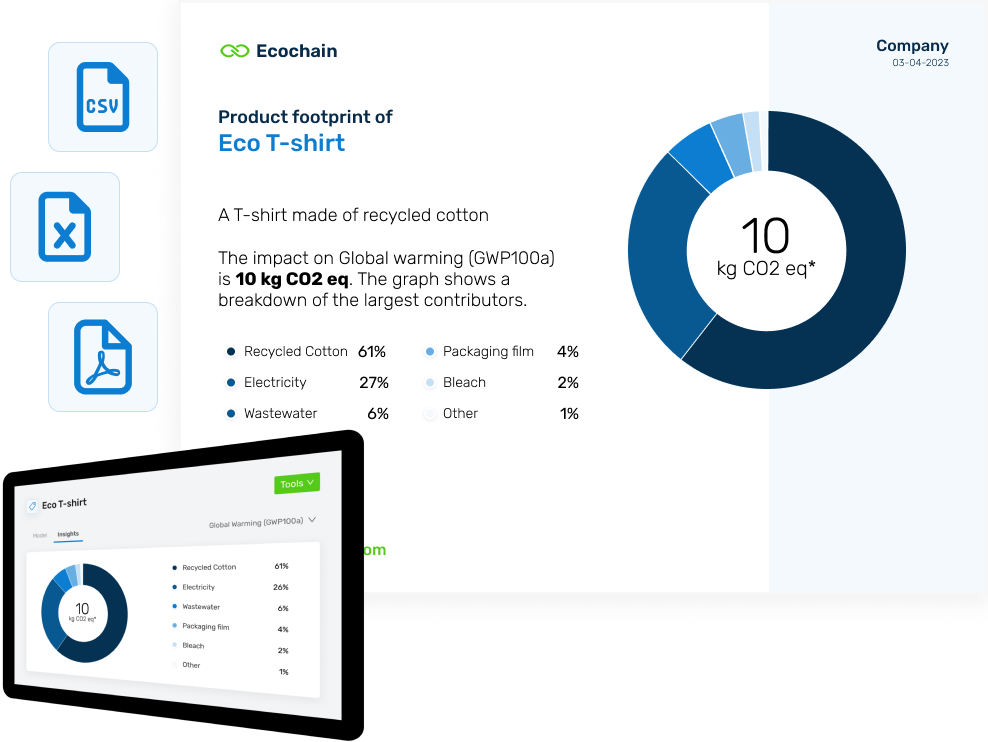 What our customers are saying
Support is just a click away
Find all the help you need to make a Life Cycle Assessment (LCA) with our easy-to-use software. Learn how to measure & improve your footprint in no-time. And if you cannot find what you are looking for, just ask one of our experts.
Help Center
Knowledge Blogs
Training Courses
Talk to an Expert
Professional Services
Priced just right
Ecochain Mobius has different pricing options for your needs.
Yearly payment (save 24%)
Monthly payment
Professional
€

325

/per month
For individual professionals looking to make their products more sustainable.
Ecoinvent license included
Unlimited Talk to an Expert calls
For 1 user
With 3 workspaces
And up to 100 objects
Business
€

725

/per month
For small teams aiming to improve their product portfolio's sustainability.
Ecoinvent license included
Unlimited Talk to an Expert calls
For 2 users
With unlimited workspaces
And unlimited objects
Enterprise
Custom
For larger companies that need a tailored solution.
Ecoinvent license included
Unlimited Talk to an Expert calls
Custom number of users
Unlimited workspaces
Unlimited objects
Frequently Asked Questions
Questions?
Explore if Ecochain Mobius is the right solution for you. Book a call with our sustainable business specialist, Kurt.
Book a free call
Kurt van den Linden
Sustainable business specialist