Case study
Sustainability in the Workplace – How HAVEP Calculated the Environmental Impact of Their Work Wear
Apparel & Textile
In 2020, over 8% of global greenhouse gas emissions (GHG) came from the textile industry.
The production of cotton alone is responsible for 24% of global insecticide use and 11% for the use of pesticides. And then we haven't even discussed yet how much water is consumed during the production- or use phase of clothing (think of all the washing).
However, this large impact also means that if you produce and sell your clothes in a sustainable way – you can significantly reduce your impact on the environment.
Who wouldn't want to wear work clothes that are comfortable, safe, ánd responsible?
Exactly what workwear manufacturer HAVEP had in mind.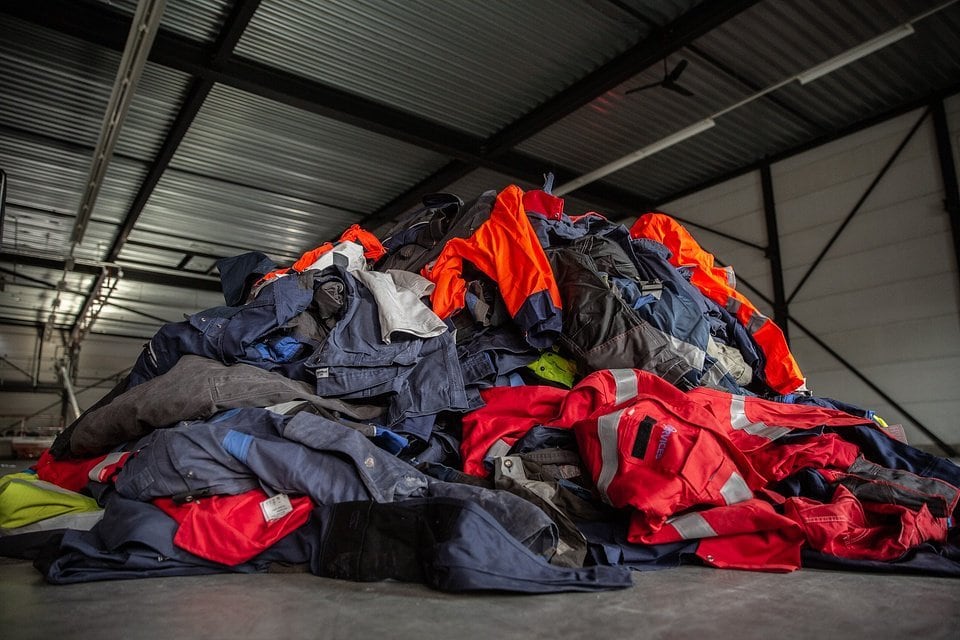 Havep: You'll never work alone
HAVEP has been making high-quality workwear since 1865. Workwear that is high quality, robust, and 100% personalized to your work situation. Yet, HAVEP now strives for an additional goal: making a positive impact on the environment.
They want to be 50% circular in 2025.
And to do so, they wanted to map out and calculate the environmental costs of their entire production chain.
Appearance, Comfort, Safety & Responsibility
HAVEP believes they should take full responsibility for the environmental impact of their value chain. From the raw material- to the use phase.
Only by analyzing the entire value chain, will they discover the true costs of their workwear. Allowing them to reduce and minimize their environmental impact.
So, they reached out to Ecochain.
Now – what was the result?
Methodology
To calculate the Environmental Costs (ECI) of HAVEP's entire production chain, a Life Cycle Analysis (LCA) was carried out, using Ecochain's tool Helix.
The environmental costs of products or companies are calculated with the Environmental Cost Indicator (ECI). The ECI is a result of an LCA and summarizes all the environmental effects of a product or production line in one single score, expressed in Euros.
The results in this case study are partially anonymized and summarized for illustrative purposes. If you want to know more, please do not hesitate to contact our research team.
The environmental costs (ECI) of workwear
HAVEP's environmental costs can be divided into the 4 life stages of their products:
From fibre to yarn (raw materials);
Spinning, weaving and refining their cloths;
Confectioning the clothing;

The use phase.
As shown in Figure 1, the biggest impact within their entire value chain occurs during the use phase of their products – with 40% of the total environmental impact. The second biggest impact hotspot lies in the collection of their raw materials, with 32% of the total impact.
These two phases hold a lot of potential for sustainable improvements. Not only regarding the choices that HAVEP makes as a workwear manufacturer- but also in the services they develop for their customers.
Where is the potential to improve?
Based on these results, there are three areas in which HAVEP is able to significantly improve. The (1) collecting of their raw materials, (2) the lifespan of their products, and (3) the use of green electricity at the production site and within the production processes. With this information, they can now draw up plans to effectively reduce their environmental impact
RAW MATERIALS
1/3rd of the total environmental costs come from HAVEP's fibers. This is why HAVEP has drawn up a roadmap to drastically reduce this impact. They work on reducing their use of conventional cotton and increasing the use of alternative fibers, such as tencel, organic cotton, and recycled polyester.
LIFESPAN
Making your clothes last longer has a large positive effect on the environmental costs of the products. The longer the lifespan of the product, the longer it is worn. With a longer lifespan, the environmental impact of the workwear products gets better divided over the number of years.
RENEWABLE ENERGY
To keep their energy impact as low as possible, HAVEP has a large solar panel field on their roof in Goirle. Additionally, they provide themselves with sustainable heat via a pellet stove with a CO₂ neutral process. The wood for this stove comes from sustainable forest management from their own forest. Finally, their stove also heats up the neighboring care center. By doing so, HAVEP is contributing to reducing environmental costs in its surrounding area.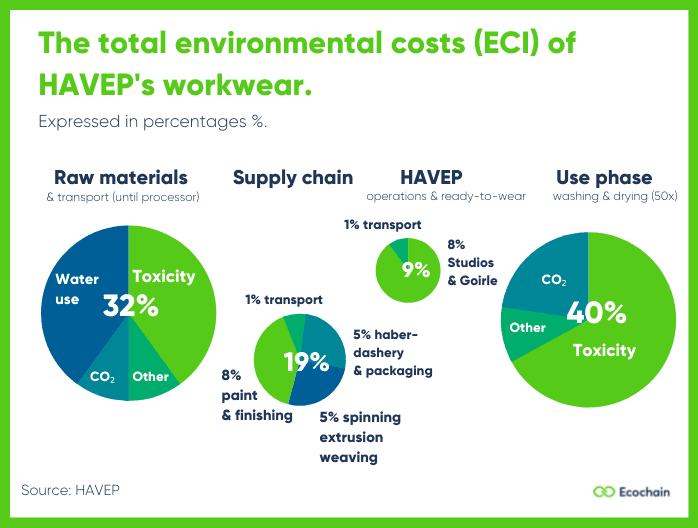 Encouraging customers: The LCA Compass
HAVEP is already taking action on the 3 previously discusses points. However, HAVEP also wants to encourage sustainable behavior among its customers.
This is why HAVEP has initiated several initiatives to involve customers in their sustainable vision.
RAW MATERIALS
Together with Ecochain, HAVEP has developed the HAVEP LCA Compass that gives customers transparent insights into the overall impact of their workwear. This impact is divided into 18 different categories – think of water use, CO2 emissions, and toxicity.
The impact is measured over the entire value chain. From the growing of raw materials until the end of the life of your garments. Alongside the tool, HAVEP gives customers advice on how to further optimize the cycle of their workwear. The result: customers now know the full environmental costs of their workwear, allowing them to make more sustainable decisions.
EXTENDING LIFESPANS
To extend the life of their products, HAVEP initiated a Care & Repair service. Here they share tips on how to best treat your work clothes and offer additional repair services to prevent the waste of clothing.
Finally, they offer a recycling service; 'Collect & Recycle'. With this service, HAVEP helps its customers recycle all their old work clothes, shoes, and personal protective equipment (PPE).
By doing so, their customers can wear their favorite HAVEP pants even longer. And if the clothing is truly worn down – the garment gets a high-quality second life.
Haveps' case is a great example of how every stakeholder within your value chain is important in your sustainability process.