Sustainability Reports from the world's biggest brands, and where their emissions come from
Footprinting & LCA
Every major company these days publishes a sustainability report.
It isn't mandatory.
But the increasing public pressure has led most major corporations to publish sustainability reports alongside their shareholder reportings for each fiscal year. In this article, we'll take a look at the sustainability reports of some of the biggest brands in the world: IKEA, Unilever, Apple, Tesla, Nike, Adidas, and H&M.
What are they trying to communicate? And how transparent are they with their numbers?
Greenwashing: A major issue
Sustainability reports are extensive documents, with many claims. Major corporations have these numbers verified by external consultancies. With others, it's not that obvious.
But of course, a sustainability report presents a big opportunity to greenwash hazardous activities. In this article, we will not fact-check the numbers in detail. But sometimes, the wording of a report can provide insights into the trajectory that a company is currently on.
Get our free bi-weekly Newsletter
You will receive one email with stories of sustainable change-makers and practical insights on how to reduce your environmental footprint. 
Which emissions are direct and indirect emissions (Scope 1,2 and 3)?
Sustainability reports also address social impact. We won't look at that for this article. One aspect, however, that we're very interested in, are the emissions a company produces:
Are they direct emissions, caused by their own manufacturing processes (Scope 1 emissions)? Or indirect emissions (Scope 2)? Or indirect emissions caused by the value chain (Scope 3)? If this confuses you, we have prepared an introduction to scope 1, 2 and 3 emissions. Scope 3 includes even transport, use phase and end of life of a product. In many companies, scope 3 accounts for the absolute majority of the footprint – something you will also see with the brands in this article.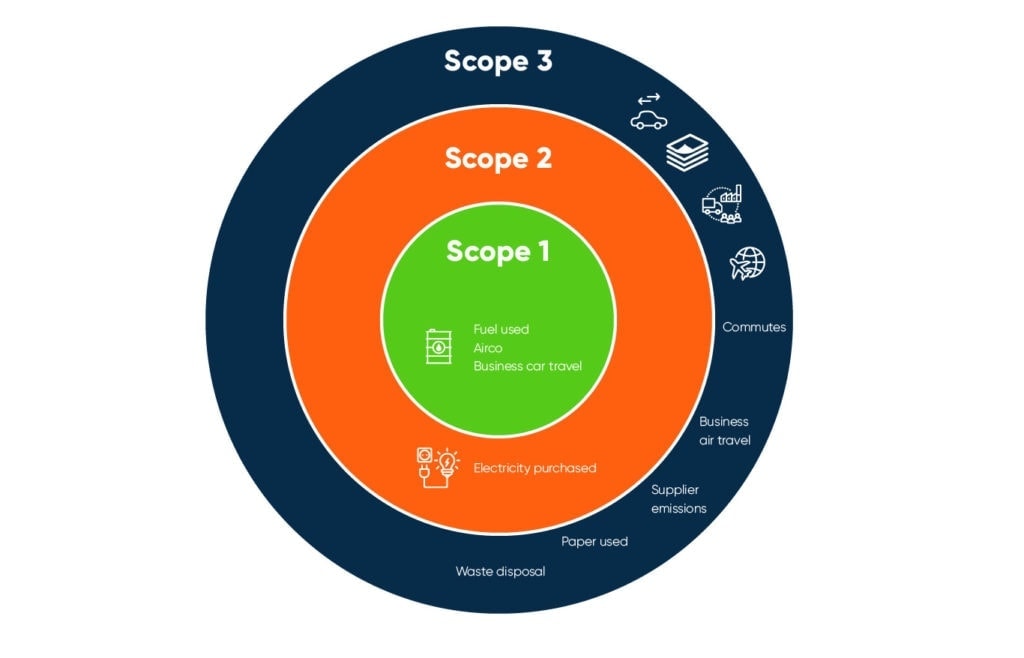 Many of the sustainability reports in this article actually break down these numbers. Stay tuned.
IKEA Sustainability Report (FY18)
The IKEA Sustainability Report is focused around ecodesign: IKEA is communicating their activities in circular design principles, repurposing, repairing and reusing. Additionally, IKEA has sourced more renewable energies and moved towards plant-based foods and away from single-use plastics.
Most of their CO2 footprint comes from their supply of raw materials (about 36,4%). But 22,2% of their footprint actually comes from the product use at home – this underlines how important it is to consider the entire life cycle of a product in an LCA!
IKEA is not differentiating Scope 1 and 2 emissions in their report.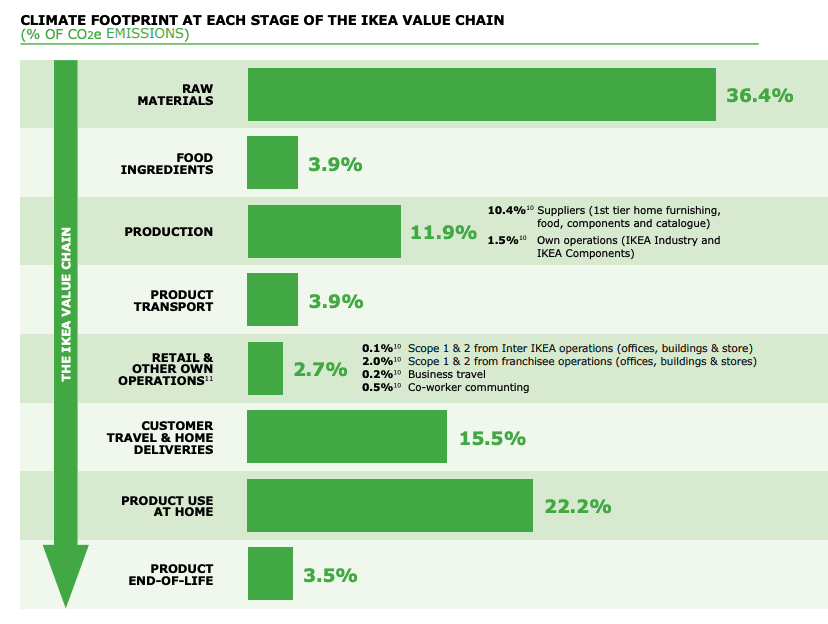 Unilever's "Sustainable Living Report" 2019
"The Unilever Sustainable Living Plan sets out to decouple our growth from our environmental footprint, while increasing our positive social impact."

Unilever
As one of the largest food providers in the world, Unilever's Sustainable Living Report has a different focus then IKEA's. Unilever defined 3 focus pillars for their sustainability strategy: "Improving health and well-being for more than one billion", "Reducing environmental impact by half" and "Enhancing livelihood for millions". These targets are surprisingly actionable and measurable and encompass most of the Sustainable Development Goals (SDG).
Unilever's managed to reduce their environmental impact in manufacturing by 65% – in scope 1 energy usage, to be precise. The impact across the product life cycle has actually increased by 2% YoY. However, most other goals for GHG emission reduction are on plan at Unilever.
Apple's "Environmental Responsibility Report 2019"
Apple's Environmental Responsibility Report comes in a slick packaging. But they actually go really deep into their environmental metrics.
74% of Apple's environmental footprint comes from manufacturing, only 19% from product usage. Considering they produce electronics, this is an interesting statistic.
Apple has, much like IKEA, been focusing largely on their production processes. They claim that 100% of their aluminum production now comes from recycled materials. But their integrated circuits – their computer chips – actually account for most of their impact.
Integrated circuits, or chips, make up a large portion of our manufacturing carbon footprint.
Turning a silicon wafer into an integrated circuit is an energy-intensive process. So we seek out ways to reduce the amount of silicon used in chips, while maximizing their performance. The A11 and A12 chips used in iPhone 8, X, XS, XS Max, and XR allow more processing power to be packed into smaller silicon dies, which reduced Apple's 2018 carbon footprint by 160,000 metric tons.

Apple Environmental Responsibility Report 2019
Tesla's "Impact Report 2019"
Tesla's mission is to accelerate the world's transition to sustainable energy.

Tesla Impact Report 2019
Tesla is known to be a mission-driven car manufacturer, but how does that translate to their sustainability reporting? Surprisingly well. Tesla includes large arrays of general information about greenhouse emissions on climate change, before diving into their own environmental footprint.
Tesla's main energy source is solar energy, and so it's no surprise that their biggest chunk of emissions are indirect, scope 2 emissions.
Nike "Impact Report 2019"
NIKE's purpose is to unite the world through sport to create a healthy planet, active communities, and an equal playing field for all.

NIKE
Nike's Impact Report focuses on the social aspect of their work – an understandable goal in the fashion industry. But it also dives into sustainable sourcing, circularity and ecological design.
The average carbon footprint of their products haven't changed since 2015, but with 7,33 kg CO2-equivalent, it's comparably low – this is the impact of two small steaks according to our carbon translator. Also, the amount of sustainably sourced materials has increased – namely plastic bottles and other recycled materials.
The absolute majority of Nike's carbon footprint comes from Scope 3 emissions – an astonishing 97,4%, based on the Science Based Targets.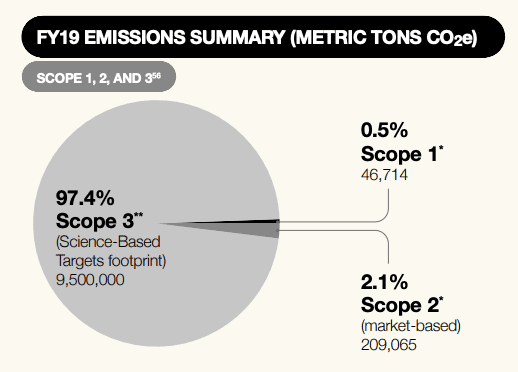 Adidas "Green Company Report 2019"
Unlike their big competitor, Adidas doesn't go into detail with their scope 3 emissions in their Green Company Report 2019. Their scope 2 emissions account for five times the amount of their scope 1 emissions.
Yet, with almost 22.000 tons of CO2 equivalent, their scope 2 emissions account for roughly the same GHG impact as 700 people living in the Netherlands (according to our carbon translator).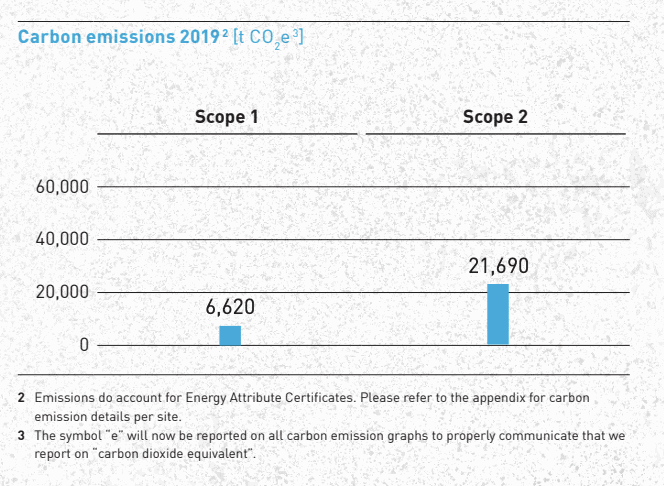 H&M's "Sustainability Report 2019"
H&M's Sustainability Report 2019 comes in a modern, digital-first format. While also focusing on social issues, the fashion giant does mention circular & climate-positivity as one of their core objectives. However, it falls short of providing underlying numbers, which can be found in the in-depth PDF report.
According to H&M, while 13.000 tones of CO2 emissions come from their scope 1 emissions, scope 2 accounts for 48.000 tonnes. However, 17.000 KILOtonnes of CO2 emissions get caused by their value chain, as scope 3 emissions. And fabric production accounts for almost half of that!
Sustainability Reports: No standard format, but initiatives work
Most of the brands we investigated in this article provide insights into their scope 3 emissions, all of them into their scope 1 and 2 emissions.
Industry initiatives such as Science Based Targets and the Sustainable Apparel Coalition have led to companies investigating their scope 3 emission stronger – a big step in the right direction. We don't know what the future might bring, but further standardizing and comparing these data formats will surely help to create even more insights into the environmental performance of the world's largest brands.