How can a glass cube change the way we sell spirits to bars?
Capacity & Awareness
The packaging is the brand: this saying is definitely true within the liquor industry.
What would all that lovely booze be without their fancy bottles? Indeed, a beautiful bottle conveys a premium product that just looks great within the walls of the glass behind the bartender. 
However, there is a catch.
A beautiful bottle also needs to be nicely heavy and thick, which makes the large scale transport of these heavy bottles account for the biggest impact in these spirit's value chains.
Liquor is usually shipped in glass bottles, which is interesting because glass bottles can actually have a higher impact than plastic bottles. The impact of PET per mass is higher than of glass, but we've learned in several studies that the weight of the glass bottle can outweigh the benefits of glass, even with 60% recycled glass. Weight is a really important factor.

Lex Roes, PhD, Environmental Specialist at Ecochain
Glass: 22 million tons of CO2
Yes. We can definitely say that innovation is heavily needed: The impact of a glass spirit bottle was estimated to be 22 million tons of CO2 in 2020. This is equivalent to the yearly CO2 budget of 11 million people. 
So how do you change such a big business as the glass business? The majority of the glass production is owned by a few big vendors, so it becomes harder to innovate an industry of this size.
Although many companies have added labels to their bottles or have launched limited edition recycled bottles, this does not tell you how much recycled glass actually went in to the product.
Most recycled bottles contain between 0% and 80% recycled glass. We are bottling our whisky in a 100% recycled clear glass bottle and combining this with a high tolerance for defects and as light a bottle as we can source. This lowers the carbon footprint of the bottle by 40%, because it takes much less energy to re-melt glass, than to break down sand, soda ash and limestone which is used to produce virgin glass.

–  Annabel Thomas, CEO, Nc'Nean
Meet the sustainable solution: The Glass Cube Revolution
The thing is; it is not impossible to have a more sustainable glass packaging and make it look very good. Which is exactly what ecoSpirits, a project launched by Proof & Company; Asia Pacific's leading liquor distributor, is doing. 
Calling it a disruption is an understatement. Instead of distributing single use glass bottles, the company invented a closed-loop distribution system that completely eliminates packaging waste. Furthermore, ecoSpirits drastically reduces the amount of glass being shipped back and forth.
At the core of the concept is a beautiful 4,51 liter square glass cube. The cube replaces the shipping of bottles – and can simply refill the bottles in any given bar. It accounts for a reduction of 550 grams of CO2 per bottle of liquor – which is a remarkable change. 
Can a cube really replace a bottle?
EcoSpirit's Glass Cube instead of a bottle provides the perfect answers to some of the questions that might come up among companies in the spirit industry. Does it look good and fit in my brand? Is it a safe container that can retain the flavour of my spirit? 
As the container is glass, it still gives the gold standard for flavor protection and hygene. Furthermore, there is, literally, even more space for branding on the cube than on a usual bottle. 
It's quite absurd that our industry ships products in a packaging container that is heavier than its content. That's where we have the most potential, and that's where the ecoSpirits cube comes into play.

– Paul Gabie, CEO of Proof & Company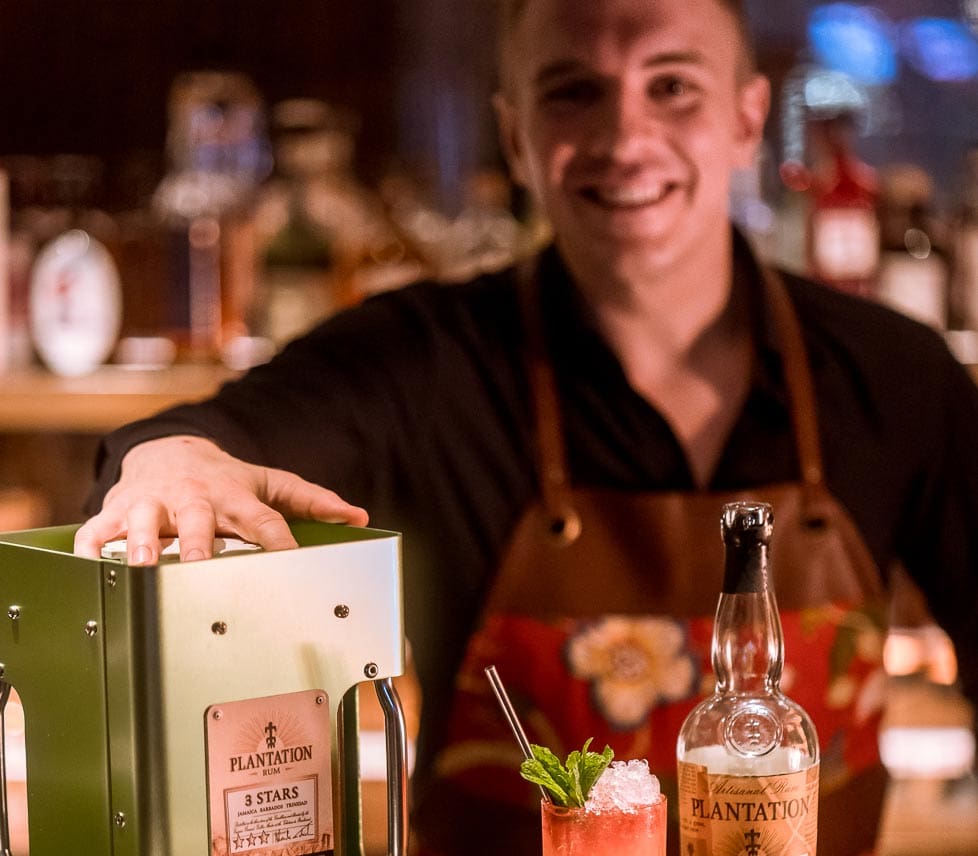 Indeed, the best feature of the cube is that you can refill it hygenically whilst using the same 'bottle'; a great solution for the 'weight problem' and reusability of the packaging in the spirits industry. 
We distribute through a satellite system, including a miniature processing facility that fits inside a 20ft shipping container. It can be deployed anywhere in the world, and it takes care of emptying, cleaning and filling the Ecotodes, all in perfect hygienic facilities. – One of our clients, Raffles Hotel in Singapore, actually saves 10.000 bottles per year this way! And we're expanding into 2-3 new markets every quarter.

– Paul Gabie, CEO of Proof & Company
Interested in more inspirational stories of frontrunners in the Spirits industry?
You can read this story and many other inspirational stories from frontrunners in the liquor industry, in our first frontrunners report: 'Spirits of the Future'.
Get the (free) Environmental Briefing every week
Every week, you will receive one email with stories of sustainable change-makers and practical insights on how to reduce your environmental footprint.